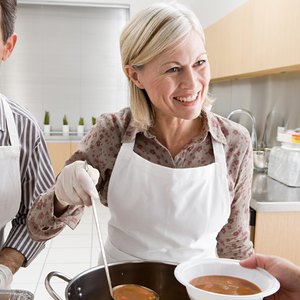 •••
Image Source/Digital Vision/Getty Images
If you or someone you know requires the help of a food pantry in Indianapolis or if you wish to volunteer, the city offers plenty of resources. While there are dozens of organizations offering food help to residents, days and hours of operation and criteria for service all vary. Obtain information regarding Indianapolis food banks by calling the 211 helpline.
Open Evenings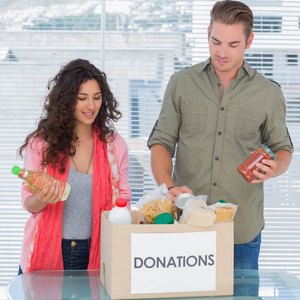 •••
Image Source/Digital Vision/Getty Images
The Eagle Creek Community Church's food pantry at 5943 Lafayette Road is open every other Wednesday from 6:30 to 8 p.m. The PourHouse Inc., at the corner of Vermont and Pennsylvania, serves homeless adults and is open Wednesday and Sundays from 6 to 9 p.m. Robinson Community AME Church, at 4602 N. College Avenue, is open Wednesdays from 5:30 to 6:30 p.m. Chapel Rock Christian Church Food Pantry, at 2020 N. Girls School Road, is open the first and third Thursdays of the month from 5:30 to 7 p.m.
Open Every Weekday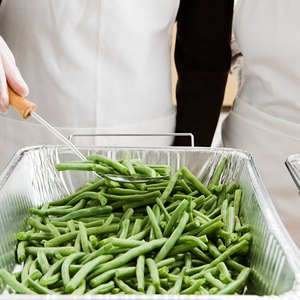 •••
Image Source/Digital Vision/Getty Images
Most Indiana food pantries are open once or twice a week. Pantries open Monday through Friday include Second Helpings Inc., at 1121 Southeastern Avenue; Boulevard Place/ St. Vincent DePaul Food Pantry, at 4202 North Boulevard Place; United Way of Central Indiana, at 3901 N Meridian Street, No. 25; Christamore House, at 502 North Tremont St.; Rock of Faith Missionary Baptist Church, at 10302 E 38th St.; and FHL Community, at 8383 Craig Street. Flanner House, at 2424 Dr Martin Luther King Jr St., is open only to referrals.
Proof of Identity
•••
Image Source/Digital Vision/Getty Images
Some Indiana food pantries require proof of identity from recipients. These include Hunger Inc, at 1416 E. Epler Avenue, which requires the driver's license of the primary recipient and the Social Security number of all members of the household. Northwood Christian Church Food Pantry, at 4550 Central Avenue, requires a photo identification card for each visit, along with a sample of recent mail with an address, such as a tax or utility bill. Edna Martin Christian Center, at 2605 E. 25th Street, requires a photo identification card for first-time visitors, along with proof of income and a Social Security card. Kennedy King Multi-Service Center, at 601 E 17th St., requires photo IDs, Social Security cards and proof of residence.
Special Assistance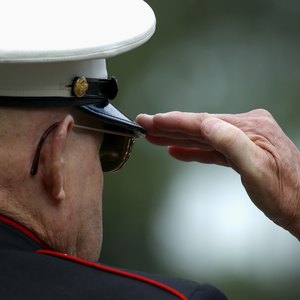 •••
Image Source/Digital Vision/Getty Images
Some Indianapolis food pantries are open only to members of certain groups. The Hoosier Veterans Assistance Foundation, at 964 N Pennsylvania Street, is open Tuesdays and Thursdays from 12:30 to 3:30 p.m., but it only veterans are eligible for assistance. The Julian Center, at 2021 N Meridian St., serves only sexual assault or domestic violence victims. The Martin Center, at 3549 N College Ave., serves only those who have been diagnosed with sickle anemia or identified as having the trait for it.
References
Writer Bio
A graduate of New York University, Jane Meggitt's work has appeared in dozens of publications, including Sapling, Zack's, Financial Advisor, nj.com, LegalZoom and The Nest.