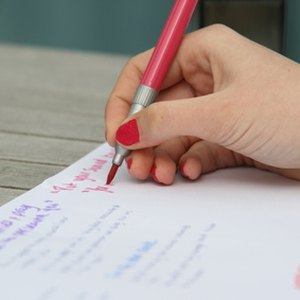 Learning how to write grants is easy and free via online and library resources. You can get more free training by volunteering to assist schools, nonprofit organizations and businesses with their grant proposals. This also gives you credentials that you can use to develop a freelance grant-writing business. Writing grants and asking the grant reviewers for feedback can provide additional training at no cost. Shadowing someone at a local consulting firm allows you to learn even more.
Visit the library and read books on grant writing. Look at "A Guide to Proposal Planning and Writing" by Lynn E. and Jeremy T. Miner. This book has been republished many times, and every version is equally helpful. Read the last 12 issues of the Philanthropy Digest to understand current topics in grant writing.
Go online and read articles on websites about grant writing and to find sample grant proposals.
Download or watch online tutorials on grant writing available from federal agencies and schools. View the EPA Purdue University tutorial for detailed information and writing exercises.
Contact the United States Environmental Protection Agency office in your area and ask when it will have the next grant workshop. These are typically held once or twice a year and provide guidance and education on grant writing.
Contact local elementary schools, high schools or colleges and ask to speak with their grant writer. Offer to assist with background research and grant proposal preparation for an existing grant proposal project in exchange for supervision and guidance in developing the proposal. Education grants are typically the simplest and easiest to start learning.
Contact local nonprofit organizations such as churches. Highlight your experience assisting with a grant for a school and ask for opportunities to assist their grant writer. Nonprofit non-education grants are typically more complex than school grants due to increased focus on budgets, in-kind contributions and sustainability of program funding.
Look for local businesses in the Foundation Directory that received grants in the past. Contact the businesses and offer to work with them on their next grant proposal at no charge to them. Grants for businesses that are for-profit are typically the most complicated that you will ever see because they require more justification than those for schools and other nonprofit organizations.
Contact local foundations and agencies providing grants such as Rotary and volunteer to serve on their grant committee. Reading proposals written by others and hearing the funders' comments on these teaches you how to write better proposals.
Call local consulting firms that provide grant-writing services. Ask to shadow their grant writer for a day. This will enable you to understand the political and business sides of grant writing.
Write a grant and submit it to a funder. Ask the funder for feedback. This provides personalize evaluation of your work including your writing style.
Visit grant writers in person.

Go to all informational meetings listed in requests for proposals.

Ask funders for suggestions on your proposal prior to official submission.
References
Resources
Writer Bio
Cinda Roth began writing U.S. Environmental Protection Agency federal grants in 1995. In 2004, she began writing agriculture and bio-solids rules, as well as ozone plans and grants for the San Joaquin Air District. Roth's articles on grants and relationship tips appear on various websites. She has a Bachelor of Science in biochemistry from the University of California at Davis.