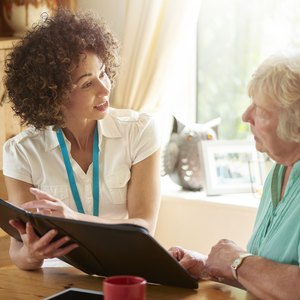 •••
sturti/E+/GettyImages
Sixty-five million Americans care for an elderly person or someone with a disability or a long-term illness. It is an emotionally and physically demanding job, and caregivers often benefit from assistance to help them fulfill their role. This can include help with care itself and dealing with related difficulties as well as emotional and moral support.
There are several different kinds of support for caregivers who look after the elderly and disabled. Included are respite care, financial, emotional and medical support.
Respite Care
Respite care gives caregivers a break from their caring responsibilities. It helps relieve stress and maintain their own health. Sometimes, friends and family members may be able to help caregivers, but help is also available from outside organizations. Home care businesses can provide paid care providers to assist the caregiver or allow them to take a break, although these are not free. Charities and community organizations can sometimes provide volunteer helpers for caregivers. Outside the home, day centers and residential care can both help support caregivers. Insurance, charity grants and state aid can all help with the cost of this kind of care.
Financial Support
Being a caregiver can be financially draining. A full-time caregiver cannot work outside the home, and may well have to bear costs associated with caregiving. In particular, caregivers may be faced with significant medical costs for those they care for. The National Family Caregiver Support Program provides financial support for those caring for relatives aged 60 or older, and for grandparents caring for grandchildren with physical or mental disabilities. Grandparents caring for grandchildren can also receive support through the Temporary Assistance for Needy Families program. Other financial support is available through charities and local programs.
Emotional Support
Caregivers benefit from receiving emotional, social and psychological support. Without such support, many caregivers begin to feel isolated and unhappy. Support can come from a number of different sources. Family members and friends can be a useful source of support, although it is not available to everyone. Online support groups and discussion boards provide an easy-to-access and informal support network. Support groups can provide regular, local human contact. Often, they are aimed at particular medical conditions, meaning they can provide specialized support. For caregivers who find themselves emotionally overwhelmed by their responsibilities, support from professional mental health services may be beneficial.
Medical Support
Caregivers often have little medical knowledge themselves, and rely on support from medical professionals to carry out their role. If medical insurance does not cover the costs to the caregiver of accessing medical support, then support may be available through Medicare. Once funding has been found for medical support, it is important that caregivers engage with medical professionals to access as much support as they can. They should communicate with them and take an active role to gain knowledge and caregiving advice.
References
Writer Bio
Alice Cuninghame gained a B.A. in history and politics before going on to work in the public sector for several years, writing numerous reports and political briefings. She is currently studying for an M.A. in creative writing while working as a freelance writer and editor.