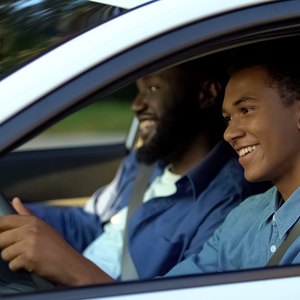 •••
Motortion/iStock/GettyImages
When shopping around for car insurance, you might be surprised at some of the higher rates, especially if you're a younger person considered higher risk by insurers. If you're currently in school, though, you'll find that many of the popular car insurance companies offer discounts to college students who meet certain criteria like maintaining good grades and having a good driving record. In addition, you can access a variety of other discount programs to further reduce your premiums.
As a student, use this guide to find an auto insurance policy that will cut your car insurance costs so you can better fit the expense into your budget.
Quick Overview of Auto Insurance
The Insurance Information Institute (III) says car insurance is mandatory in most places since you need a way to be financially responsible for property damage and injuries you cause to others while driving. The minimum is liability-only coverage that just reimburses the other party you hit in an accident. Full coverage helps you financially recover as well if you're at fault for an accident or you face car theft or loss from a natural disaster. Car insurance claims usually are subject to a deductible where the insurer pays the remainder up to limits set for the particular coverage.
Car Insurance Considerations for Students
According to the III, teenagers and young adults particularly need to act strategically to save money on car insurance premiums since costs tend to run high, especially if they want full coverage. Car insurers consider drivers ​under 25​ riskier due to less driving experience. Rates can rise further for those who insure expensive cars, have lower credit scores, are men, drive a long distance regularly or park their vehicles at an address with a higher crime rate. All of this means you should get quotes and compare rates to find the best car insurance company for your needs.
Another consideration for students in this age group is whether to get an individual policy or get on a parent's policy, as the latter tends to cost significantly less. As long as you live with your parents or are a qualified full-time student living at college, you can usually qualify for the cheaper option, as long as your parents approve of it and understand the risk that you could have something happen that raises the overall rates. However, if you live on your own and don't qualify under the insurer's criteria, then you'll likely need to get your own new policy and pay more.
Common Types of Student Discounts
The student discounts that are available depend on the auto insurance company, and some may not be available in every state. Take a look at some of the most common discounts for college students and what they involve:
​Good student discount​: You'll find this type of discount through most major insurers to high school and college students, and the savings vary. It's designed for full-time students who keep their grades up, often meaning they need a B average or ​3.0 GPA​. Insurers usually require proof of your grades every renewal period to qualify.

​Distant student discount​: Since some college students don't take their cars with them when they reside on campus, some insurance companies offer a discount as long as the car stays at home and the student lives a specific distance away from home. This discount usually just applies to students added to their parents' policies, and the distance requirement varies.

​College student association discount​: Postsecondary institutions and specific student organizations can have special partnerships with car insurance companies that lead to an affiliation discount. This student discount is less common than the others, but you can check with your institution to learn about any partnerships they have.

Student Discount Examples From Insurers
When exploring your car insurance options, consider some student discount programs available through these major car insurance companies:
​Progressive​: Progressive mentions a good student discount that can lead to around ​10 percent​ in savings and requires both full-time attendance and a B average in high school or college. Parents of college students who are no older than ​22 years old​ can get a distant student discount when their children leave their vehicles at home, and the student attends and resides at a college at least ​100 miles​ away. Teenage students ​up to age 18​ can also save through the teen driver discount program when they stay on a parent's policy.
​Nationwide​: Nationwide offers a good student discount to full-time high school and college students ​between 16 and 24 years old​. The insurer requires proof of a B average.
​Allstate​: Allstate has a smart student discount program for people ​younger than 25​, and there are three ways to qualify. You could show a minimum B- average or ​2.7 GPA​, take a driver education program called teenSMART or be classified as a distant student.
​State Farm​: State Farm rewards full-time students ​up to age 25​ with as much as a ​25 percent​ discount if they meet some criteria: They need to have a B average, rank in the ​top 20 percent​ of their class or have a minimum ​3.0 GPA​. Parents with college students listed on their policy can get a "student away at school" discount if the student is ​under 25​ and lives at a school a certain distance away from home.
​GEICO​: GEICO has a good student discount of ​up to 15 percent​ if you're studying full time and keep a B average. You can also save through affiliation discounts if you're a member of an associated organization like a sorority or fraternity or if your school or student organization has an agreement with GEICO.
​USAA​: The USAA – which offers insurance programs to qualified past and present service members and their families – extends a good student discount to full-time students ​under 25​ who have achieved an academic goal such as having a B average or ​3.0 GPA​, ranking in the ​top 20 percent​ of the class or getting added to a dean's list or honor roll.

Getting Other Car Insurance Discounts
choosing a higher deductible;
opting for a new vehicle with extra safety features;
paying based on miles driven if you're not a frequent driver;
staying accident free and violation free;
taking defensive driving courses;
being affiliated with the military;
bundling policies;
handling bill payments and documents electronically;
using loyalty discount programs.

Applying Car Insurance Discounts
When you're ready to get auto insurance and take advantage of discounts for students, you need to gather some documentation. Usually, this means having a recent grade report or transcript for the good student discount and showing proof of attendance and residency for distant student discounts.
Other discounts, like safe driving programs, may require a paper proving you took certain driver's training courses. The insurance agent may ask other questions about your vehicle, driving history, record as a safe driver and occupation to determine other discounts you could get.
If you already have insurance, it's easiest to reach out to the insurance company and ask about adding student discounts to your existing policy. You submit the same kind of documentation and may get a partial refund if you've already paid premiums for several months during which you qualified for the discount program.
References
Writer Bio
Ashley Donohoe has written about business and technology topics since 2010. Having a Master of Business Administration degree, bookkeeping certification and experience running a small business and doing tax returns, she is knowledgeable about the tax issues individuals and businesses face. Other places featuring her business writing include Zacks, JobHero, LoveToKnow, Bizfluent, Chron and Study.com.