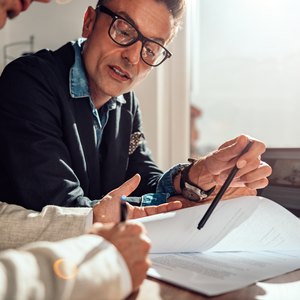 •••
Kerkez/iStock/GettyImages
You've probably gotten countless calls and mailings over the years claiming, "Your car's extended warranty is about to expire." But the fact is, many of us don't even have an extended auto warranty beyond the factory warranty, sometimes called a manufacturer's warranty. And you probably know when that's going to expire, because the dealership told you about the duration of your warranty coverage as a selling point when you negotiated to buy the car.
Are extended car warranty plans worth it if you're purchasing a new vehicle? What does an extended warranty provide that's not covered in the factory warranty or manufacturer's warranty that auto manufacturers include with most new vehicles?
We answer all your questions about extended warranties for new and used cars.
What Is an Extended Warranty?
An extended car warranty or vehicle service contract can help cover the cost of repairs after your manufacturer's warranty expires. Sometimes, your warranty coverage overlaps. But, ideally, since you have to pay warranty providers for your extended warranty coverage, you want it to begin as soon as your factory warranty expires.
Powertrain Warranty vs. Bumper-to-Bumper Warranty
A factory warranty typically comes with two different types of coverage, each with a different duration. Your new or certified pre-owned vehicle usually includes a powertrain warranty or a bumper-to-bumper warranty.
​Bumper-to-bumper coverage:​ This offers comprehensive coverage of many things that can go wrong with a vehicle that aren't related to everyday wear and tear. The bumper-to-bumper warranty coverage may include:
Electrical components
Air conditioning and heating systems
Steering
Safety features
Hybrid or electric vehicle batteries
​Powertrain warranty:​ This covers mechanical breakdown of the important components that keep your vehicle running, including the:
Engine
Transmission
Axle
Drive shafts
Seals and gaskets
Most manufacturer's bumper-to-bumper warrantees last for ​three years​ or ​36,000 miles​, while powertrain warranties typically last ​five years​ or ​60,000 miles​. Brands like Hyundai are known for offering a ​10-year, 100,000-mile warranty​ for many of their vehicles.
What Does an Extended Warranty Cover?
As with manufacturer's warranties, extended warranties cover different elements of your vehicle depending on the type of warranty. You can get an extended warranty that covers just the powertrain, or you can choose a bumper-to-bumper warranty.
You also have other options with an extended warranty, including coverage for:
Rust and corrosion damage
Normal wear and tear
Roadside assistance, including towing
A rental car while your car is being repaired
What's Not Covered in Warranties?
Most manufacturer's warranties do not cover normal wear and tear or damage for corrosion. Some components that aren't covered in manufacturer's warranties include:
Tires
Oil changes and other regular maintenance
Exterior cosmetic damage
Interior damage
Damage caused by an accident
Damage caused by adding third-party components
Before you make upgrades or modifications to your vehicle, be sure it won't void your manufacturer's warranty or any extended warranty you may purchase.
Options for Purchasing an Extended Warranty
Your car dealership may offer an extended warranty for your new, used, or certified pre-owned vehicle. You may even be able to roll the cost of the extended warranty into your car loan. But be aware that you'll pay interest on the warranty costs on top of the cost of your vehicle.
You might not get the best price by purchasing a warranty from your dealer, either. But, just like car prices, you can negotiate the purchase price of your car's warranty, too.
If you don't choose to purchase from the dealership, keep in mind that the extended warranty market is filled with disreputable companies who call your phone or send mass emails in the desperate search for a sale. It's important to find a reputable company from which to purchase your extended car warranty.
Some reputable and affordable places to buy an extended warranty include:
Auto clubs like AAA
Your car insurance company, which calls it mechanical breakdown insurance
Independent warranty companies, such as CARCHEX or CarShield
Visit review websites like Consumer Reports and check the Better Business Bureau website to be sure you're purchasing your extended warranty from a reputable company that will stand by the coverage.
What to Look for in Warranty Coverage for a New or Used Car
Even if you choose a reputable warranty company, you can get taken for a ride if you don't read the fine print. You want to know exactly what coverage you're paying for and what exclusions may apply.
You also want to find out where repair work can be done. If you want to use your choice of mechanics, you want to make sure your warranty will cover it. At the very least, make sure there's a repair shop in your area that accepts your warranty.
Also, find out if your warranty carries a deductible. It might not pay to invest in a warranty with a high deductible, if you'll have to shell out ​$500 or more​ to cover costly repairs before the warranty coverage kicks in.
Benefits of an Extended Warranty for a New or Used Car
Most new cars don't require an extended warranty because they're still covered by the factory warranty with bumper-to-bumper and powertrain coverage. However, if you plan to keep your new car after the warranty expires, you may want to consider an extended warranty to avoid paying for costly repairs that may be necessary on an older car.
A certified pre-owned vehicle also usually carries a warranty from the dealer, so extended coverage may not be needed.
However, if you're buying a used car with no warranty from a dealer or from a private seller, you'll want to weigh the costs vs. the benefits of an extended warranty.
An extended warranty can provide peace of mind that you won't have to pay out of pocket for costly repairs that are sometimes needed on older cars. However, remember that maintenance costs and everyday wear and tear on the vehicle probably isn't covered under the protection plan. Many of the problems that occur with older cars are simply a function of wear and tear on the vehicle as they age.
To determine if buying a vehicle service contract is the right choice for you, compare the costs of the warranty over time with the potential costs of vehicle repairs.
Some warrantees can cost as much as ​$3,000​ over time for coverage. Most repairs on newer cars aren't likely to add up to that much money. Plus, you may have a deductible to pay, further diminishing the value of your car's warranty service.
For some people, an extended car warranty offers peace of mind if something goes wrong with their vehicle.
But if you have the money to pay for a warranty, consider placing it in a high-yield online savings account instead, where you can access it if you need it for emergency auto repairs.
After all, few things deliver peace of mind like having money in the bank when you need it, whether it's for car repairs or another emergency.
References
Writer Bio
Dawn Allcot is a full-time freelance writer, content strategist, and founder of GeekTravelGuide.net, a travel, technology, and entertainment website. A seasoned finance writer, her work has appeared on Forbes, Bankrate, Lending Tree, Solvable, Moneycrashers, and many other personal finance sites, including the award-winning Chase News & Stories portal. With more than 20 years editorial experience, Dawn seeks to take complex concepts and simplify them for today's busy readers. Whether she is writing about taxes or technology, her goal is always to educate, inform, and entertain.