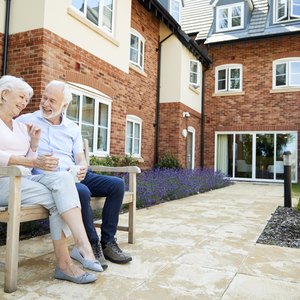 •••
monkeybusinessimages/iStock/GettyImages
A lot of older adults start downsizing when they reach their retirement years. Once they've sold that large house, many set their sights on retirement communities.
Do you want the retirement lifestyle and the social connections that could come with it? Check with your financial adviser. These lifestyle communities are fabulous, but they do come at a price.
What Is Independent Living?
Independent living communities are lifestyle communities for those adults over 55 years old. In most cases, you should be an active adult and capable of living independently.
The community could be set up in small single houses or apartments. The homes are built with seniors in mind. But you still must be able to care for yourself.
Even though these are set up to be retirement communities, independent living communities do not provide health care. These are indeed for those seniors who are entirely independent.
Independent Living Perks
Life after retirement is full of social connections at an independent living community. There are many social events and opportunities to make new friends during your free time. AARP reports that there have been several changes in senior living spaces as a result of COVID.
There are many perks to these lifestyle communities. Many offer amenities like:
golf course
swimming pool
fitness classes
Other services available could include a salon, housekeeping and landscaping. And although there isn't any health care provided, transportation and other perks are available to make your life easier.
Some independent living communities also offer dining. This gives the option of cooking or eating with new friends.
Independent Living Costs
The cost of an independent living community could go beyond your Social Security income. Check with your financial adviser. In some instances, you'll be renting the house or apartment with additional fees.
Many retirement communities sell homes, and you pay an additional monthly fee for provided services. Each community is different. And you'll need to weigh the costs versus the benefits.
A senior living community fosters independence which contributes to good mental health.
Considering Independent Living
Independent living is all about giving older adults an easier life. Some baby boomers may need a little help, but they are active and independent for the most part. A senior living community fosters independence, which contributes to good mental health.
There is usually 24-hour staff to aid you in an emergency, which creates a safe environment. You can enjoy your hobbies with fellow community members. And in retirement communities, social connections are easier to make.
But this can be an expensive option for retirement living. It takes some retirement planning to afford the luxuries that independent living offers.
And since these are adult communities, children are not always welcome. Although this is a plus for some older adults, others with grandchildren might be put off.
Assisted Living Offers Help
If you or a loved one need some help but don't need around-the-clock nursing, an assisted living campus may be for you.
Assisted living helps older adults who need some help with daily activities but don't need nursing care. For example, they may need help with taking medication, cooking or getting dressed. And although independence and privacy are encouraged, 24-hour help is still available.
Residents' well-being is at the forefront, including fostering good mental health.
What Does Assisted Living Include?
Most assisted living communities will develop a plan to help the older adult stay as independent as possible. Transportation is provided so shopping and making doctor's appointments are easy. Laundry and housekeeping are available to make day-to-day living easier. Community dining is available, so you don't have to cook.
Many assisted living communities offer exercise classes, including jazzercize, in their on-campus pool.
Well-being goes beyond the physical. Sound mental health is also nurtured. Social connections can be made with new friends. And there are social events that are not only fun to attend but promote fellowship. In addition, social activities like attending concerts or sporting events are available.
Assisted Living Costs
The cost of assisted living is more than most people's Social Security income. In 2021, assisted living was $4,500 per month. This usually doesn't include cable or internet. It also doesn't include extra a la carte services.
But it does include a private room or apartment, 24-hour security, meals, house cleaning and various other perks.
Assisted living is less per month than a nursing home. For example, a private room in a nursing home will cost around $9,034 per month. But with a nursing home, you receive around-the-clock nursing care.
Does Medicare Cover Assisted Living?
Medicare does not cover assisted living. Unfortunately, many individuals erroneously think the Medicare will. But neither Medicare nor Social Security cover assisted living. They also don't cover nursing home care or memory care.
The only time Medicare will cover nursing care is if you're in short-term rehab for an illness or injury. Otherwise, it's private pay.
Medicaid will sometimes pay part of assisted living, depending on the state. And Medicaid will pay for nursing home care.
Considering Assisted Living
If your mobility is limited and you worry about your safety or a loved one's safety, assisted living could be a good option. If a loved one has bruises or isn't cleaning themselves like they used to, they will find help with an assisted living campus.
Some isolation comes with living alone. With assisted living you're able to make social connections. Even though you may have old friends still in the picture, making new friends is stimulating.
And if an older adult doesn't drive anymore, having the transportation that assisted living offers can be a lifesaver.
Assisted living can be expensive. Although there's a flat fee for living in assisted living, there are other expenses. Many services are a la carte. For instance, if you need help with medication or dressing, you must pay extra. These costs add up fast.
Work with your financial adviser preretirement to plan for these expenses.
Continuing Care Retirement Communities
A full-service senior living community has many living options. For instance, with continuing care retirement communities, an older adult has the option to move up to assisted living from independent living while staying on the same campus.
Each stage of life is accommodated in the same location. This makes it handy and the community member doesn't have to leave old friends.
Retirement Communities Available
There are numerous retirement communities available throughout the United States. And depending on what weather you prefer or your proximity to your family, you have many options. Three retirement communities available in various parts of the U.S. are Del Webb, Sunrise Senior Living Choices and The Villages.
Del Webb Offers Independent Living
With locations in over 15 states throughout the U.S. Del Webb has been around for over 20 years. Del Webb offers independent living communities for the active adult. They tout their resort-like lifestyle communities that come with all the amenities.
Homes with various floorplans to choose from are purchased. For the 55 and older active adult, Del Webb offers many social connections through programs and clubs.
Sunrise Senior Living Choices
From Arizona to Maryland, Sunrise Senior Living has over 90 locations. Although some are strictly independent living or assisted living, they offer continuing care retirement communities. This means they have independent living and assisted living on the same campus.
In some locations, Sunrise has Alzheimer's disease and memory care available.
Independent Living at The Villages
Based in Florida, The Villages touts resort-like lifestyle communities. With perfectly manicured lawns and 42 golf courses, an older adult, 55 and older, can choose the floorplan they want for their retirement home.
Besides purchasing your home, you must pay a monthly amenity fee of $179 (at this writing). This includes free memberships to country clubs and golf courses.
Social connections are made through various activities.
Retirement Community Living Goal
When considering whether to take the retirement community route, make some self-evaluations. Identify any health problems or mobility issues. Ask yourself if you can live independently or if you need some assistance.
Evaluate your finances. Medicare doesn't pay for retirement communities. Medicare also doesn't offer anything toward assisted living expenses.
References
Writer Bio
Anne attended University of Akron and went on to have a career in television sales. Working as a commercial property and casualty insurance agent for nine years allowed her to learn about different businesses' needs. She has also owned an advertising agency where she created marketing capaigns for various clients. Anne has written for several publications. She currently resides in Charleston, SC.