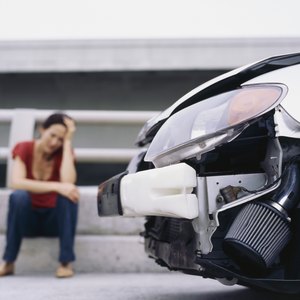 •••
George Doyle/Stockbyte/Getty Images
If you are in an auto accident and the damage is covered under your auto insurance policy, your insurance company will provide you with funds to fix your car. If you don't feel amount is fair, you don't have to accept the insurance company's first offer
The Process
It's best to contact your insurance company as soon as possible after you've experienced an accident or vandalism to your vehicle. A representative will follow up with you and ask some questions to determine if the policy covers the claim. After the initial screening, an auto claims adjuster from your insurance company will contact you to assess your vehicle. The adjuster will evaluate the amount of damage and estimate how much money it will take to fix the vehicle. Depending on the insurance company, it may allow you to obtain estimates from approved auto body shops and submit them for review.
The Offer and Negotiations
After reviewing estimates and inspecting the vehicle, your claims adjuster will make you an offer to settle the claim. The company will either offer to issue you a check or issue a check to a body shop doing the work. If you feel the offer is fair, you can accept the check immediately. However, you don't have an obligation to do so. If you think the adjuster low-balled you, you can negotiate the offer. Ask for a copy of the adjuster's evaluation report and make sure that he used comparable vehicles when estimating the cost of repairs. It's helpful to provide supporting evidence to prove the value of your vehicle. For instance, you can mention your vehicle's blue book value or provide an estimate from a different auto shop.
Escalations
If your claims adjuster doesn't budge, and the offer still doesn't feel right, you can escalate the issue within and outside of the company. Ask to speak with the claims adjuster supervisor and express your concerns. If you aren't getting what you feel is fair treatment from anyone in the company, you can contact an external source to help you with your case, such as a consumer advocacy organization or an attorney with experience in car insurance issues.
Getting the Cash
Once you've accepted the payout, the insurance company is released from liability and your claim is closed. If you're leasing your vehicle or still making payments, the leasing company or bank may require you to complete all repairs immediately to maintain the value of the vehicle. If you own your vehicle free and clear, you may not have an obligation to get the repairs done. However, if your vehicle sustains further damage because you didn't make the repairs, your insurance company may not cover more repairs.