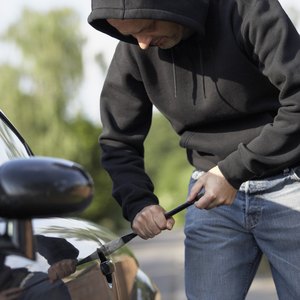 •••
BananaStock/BananaStock/Getty Images
If your car is stolen, you should immediately notify your insurance company and open a theft claim. You'll be asked for the police report and details about your car and its contents. Your insurance company will help you secure a rental car while the claim process is underway. If your car is recovered, your insurance company will pay for any damages or issue a payment for your car's value if it's not, minus your deductible. However, you must have comprehensive coverage to enjoy these benefits, which protects against theft and other non-accident related events.
Contact Insurance Company and File Claim
Your insurance company cannot do anything about your stolen car until it knows it's been stolen. Therefore, you must contact your insurance company and file a theft claim. Your insurance company will ask for a variety of information, including when and where you last saw your vehicle, what police department took your theft report and the police report number. You may also be asked for title information, name and contact information for everyone with access to your vehicle, where you kept the car keys before and after the theft, list of personal property inside the vehicle when stolen, description of mileage, options, upgrades and service records, and the name of finance or leasing company, if applicable, along with your account number.
Rental Car Provided
If your policy covers rental car coverage, your insurance company will provide you with a rental car or help you pay for one. You'll have use of the rental car until your car is either found or the insurance company pays you for the loss.
Car Recovered and Damages Repaired
If the police recover your car and return it to you, you must notify the insurance company. If your car was damaged as a result of the theft, the insurance company will pay the repair costs minus any deductible you have. If you had personal items in the car and they were not returned with your car, it is unlikely your auto policy will cover this loss. Instead, you must submit a claim through your homeowners or renters insurance. If you added aftermarket equipment to your car, such as a high-tech sound system, you may be able to have these items replaced or repaired if you have customized parts and equipment coverage on your policy.
Cash Value Paid When Car Not Recovered
If your car is not recovered, the insurance company will help you replace your car. Typically, the insurance company will issue you a check for the actual cash value of the car. This is the purchase price of the car minus depreciation and deductible. If you still owe money on a car loan or lease, this payment may go to the finance or leasing company first. Your insurer will usually require you to relinquish the title to your car when you receive payment.
References
Writer Bio
Based on the West Coast, Mary Jane Freeman has been writing professionally since 1994, specializing in the topics of business and law. Freeman's work has appeared in a variety of publications, including LegalZoom, Essence, Reuters and Chicago Sun-Times. Freeman holds a Master of Science in public policy and management and Juris Doctor. Freeman is self-employed and works as a policy analyst and legal consultant.