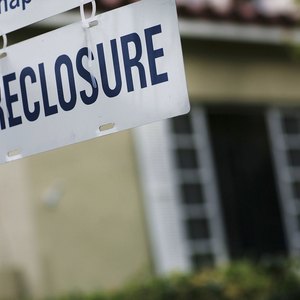 •••
Joe Raedle/Getty Images News/Getty Images
Homeowners who can no longer afford their monthly mortgage payments might be able to avoid foreclosure through a deed in lieu of foreclosure. Mortgage lenders and banks, though, will demand certain financial information from homeowners before they grant a deed in lieu, information that proves to banks that their borrowers truly can't afford those monthly home-loan payments.
Deed in Lieu
In a deed in lieu, homeowners willingly give their homes back to their mortgage lenders or banks. Homeowners might choose this option as a way to avoid the protracted foreclosure process; those owners who know that they will no longer be able to make their mortgage payments might prefer simply giving back their homes to being forced out of them -- a process that can take months -- by their banks.
Finances
Before accepting a deed in lieu of foreclosure offer, banks will want to be certain that homeowners can't afford their mortgage payments. This means that owners will have to provide banks and lenders with financial documents that prove that they have either had a drop in their gross monthly income or a hike in their living expenses that makes their once-affordable mortgage payments a burden.
Hardship Letter
To start this process, homeowners should write a hardship letter detailing the financial difficulties they face. Homeowners who have lost their jobs should include this information in their hardship letters. Those who have suffered a serious medical condition that has resulted in sky-high medical bills should write about it in their hardship letters. Those whose spouses have lost their jobs, reducing their household monthly income, should detail this. The hardship letter should concisely explain why homeowners can no longer afford their mortgage payments.
Financial Papers
Lenders want proof that the claims homeowners make in their hardship letters are true. Homeowners can provide this proof by making copies of their most recent paycheck stubs, income-tax returns or bank accounts. They can also make copies of their recent medical bills to prove that their expenses have soared. Homeowners should send these copies and their hardship letters to their lenders. Their lenders will review this information, and are more likely to grant a deed in lieu if homeowners present enough documents to clearly demonstrate that the only other option for lenders is to foreclose on these owners.
References
Writer Bio
Don Rafner has been writing professionally since 1992, with work published in "The Washington Post," "Chicago Tribune," "Phoenix Magazine" and several trade magazines. He is also the managing editor of "Midwest Real Estate News." He specializes in writing about mortgage lending, personal finance, business and real-estate topics. He holds a Bachelor of Arts in journalism from the University of Illinois.