How Does a HUD Repair Escrow Work?
by Anna Assad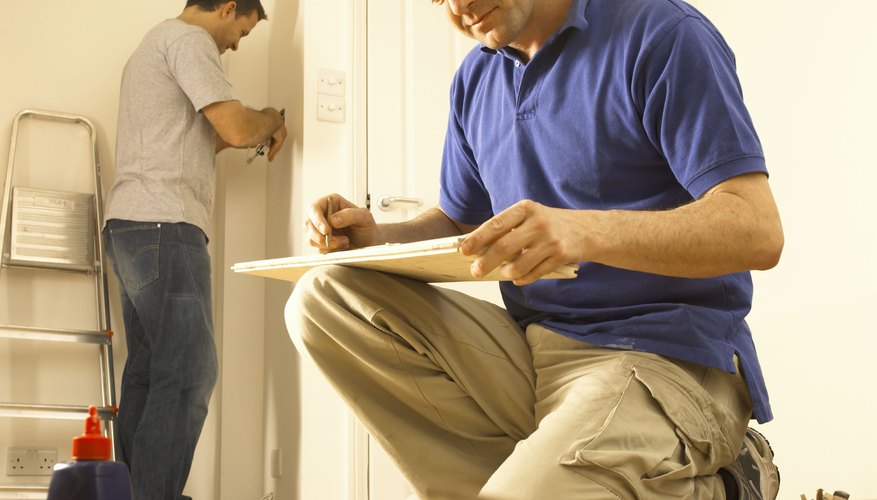 Buyers can use a repair escrow to get a loan insured by the Federal Housing Administration on a home that doesn't meet the agency's standards. Repair money is held in an escrow account until the work is done after the loan closing. The Department of Housing and Urban Development's repair escrow is meant for homes that need minor repairs that won't cost more than $5,000, and is only available to those getting an FHA-backed loan.
Funding
Funding for a repair escrow comes out of the buyer's pocket and is rolled into the FHA mortgage. The total amount required by HUD is 150 percent of the cost estimate for the repairs, including labor, materials and permits, unless the home is owned by HUD, which caps it at 110 percent. Once the actual work is done and paid for from the escrow account, the lender subtracts any leftover escrow money from the loan balance. The buyer is responsible for costs that overrun the escrow total.
Use
The repair escrow is only for noncritical repairs. A buyer can't use a repair escrow for major fixes, including roof work, foundation repair, structural defect corrections, or problems that make the home inhabitable, such as no plumbing or electrical systems.
Disbursement
The exact process for escrow disbursement varies by lender. Generally, the buyer must have all work done within 90 days of closing the loan. HUD may allow a longer period, but the lender has the option of setting the deadline. Once the work is completed, the buyer contacts the lender to arrange an inspection. The buyer submits receipts and invoices to the lender for payment or reimbursement, depending on the arrangement with the providing contractor, if the work passes inspection. A buyer who can't find a contractor willing to do the work without full payment up-front may have to pay for the work and get the money back from the lender.
Repair Considerations
Some lenders allow the homebuyer to do the repair work, but others require the use of FHA-approved contractors. In either case, the work must pass the bank inspection for the borrower to get money from the repair escrow. If the work doesn't get done or pass inspection by the lender's final deadline, the lender subtracts the escrow money from the loan balance.
Photo Credits
BananaStock/BananaStock/Getty Images