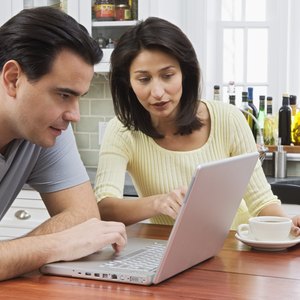 •••
Creatas Images/Creatas/Getty Images
The loss of your health insurance identification card can create many problems. Most physicians and facilities require you to present your membership ID card before they will see you for treatment. Additionally, your card is usually necessary to schedule additional visits with specialists for follow-up treatment. If your TRICARE insurance identification card has been lost or destroyed, you can obtain a new one with relative ease by visiting the company's website.
Visit the Health Net Federal Services website at www.hnfs.net. Health Net Federal Services is a division of Health Net Inc. that works exclusively with the company's managed care health insurance plans for military families.
Click the "Beneficiary" link. In the top left corner of the Health Net Federal Services website is a box titled "TRICARE North." Click the word "Beneficiary" inside this box to visit the pages specifically designed for people insured with TRICARE.
Click the "more" link. On the left side of the TRICARE main page is a section titled "Popular Tasks" with links to many of the most common tasks that visitors need to complete. At the bottom of the "Popular Tasks" section is a link to information about additional tasks not initially listed.
Click the "Request your TRICARE replacement ID card" link. This link is located toward the top of the list under the "Tasks" section. You can find many other common requests and links to additional educational information on this particular page of the website.
Fill in your sponsor's information. To initiate your request, you must enter your policy sponsor's Social Security Number and full name in the fields provided in the middle of the page. This information is required to completely process your request for a new identification card.
Enter your personal information. If you are not the sponsor of the plan, you must enter your own name and date of birth in the second box on this page. When you have finished providing your information, click the "Add this member to the request" button to save your personal information.
Submit your request. Once you have entered all relevant information about your policy sponsor and those members who need a replacement identification card, click the "Submit Request" button located beneath the information boxes.
Writer Bio
Gregory Gambone is senior vice president of a small New Jersey insurance brokerage. His expertise is insurance and employee benefits. He has been writing since 1997. Gambone released his first book, "Financial Planning Basics," in 2007 and continues to work on his next industry publication. He earned a Bachelor of Science in psychology from Fairleigh Dickinson University.