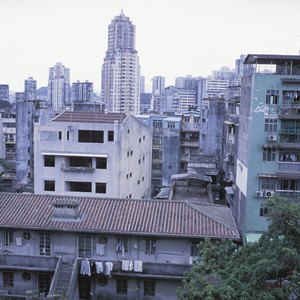 •••
Hemera Technologies/AbleStock.com/Getty Images
Flipping a house means to purchase a home, remodel it and then resell the home for a profit. There are many rules to follow when one wants to invest in real estate, but there are additional rules when you take on the job of flipping a home. One of the fundamental rules of real estate is: location, location, location, and this applies to all real estate investors including home flippers. Real estate investors will try to purchase a home in the best location possible, however, some of the more adventurous investors will also consider a location that most would forsake--a bad neighborhood. Still, flipping a home in a bad neighborhood can be done following the right plan and methods.
Flipping a home and successfully making a profit is not easy, especially when the real estate market is not at its peak. Add the negative of a bad location, and it can be too overwhelming for the novice home flipper. To be successful, the home flipper should already know the basic rules of real estate investment and have some experience flipping homes in less challenging locations.
Choose the best possible location. Not all bad neighborhoods are created equal. Some bad neighborhoods are in the throes of transition and have a lot of potential. Signs of a bad neighborhood that is worthy of investment consideration are: close to public transportation, recent business investment nearby, and an increase in home ownership in the area. Also, look at the population. If the neighborhood has many working residents, there may be more interest for home ownership. Lastly, look to see if the neighborhood you are considering is close to another more popular or recently transitioned area. If so, your bad neighborhood may be on the cusp of making a transition as well.
Consider your market. Think about who your buyer is. Is it a family or a young professional looking for their first home, or an investor looking for an investment property? If you see signs of growth in the area from any of these prospective buyers, think about creating a home for that specific buyer. If investors are moving into the area and looking to purchase rental properties, look for a home that can be converted into a rental property. If it is a starter home for a young professional or family, look for a single family home.
Begin your home search. Now that you know your target audience, look for homes that are in distress, including homes that have tax liens, are headed toward, or are currently in foreclosure, and homes being sold at auction. Also look at homes that are aging and in need of remodeling. Many homes in bad neighborhoods may fall into this category.
Complete your home search and compile a list of candidates. Do a cross-comparison. Of these homes, which homes have potential for the highest return on your investment and would attract your target buyer? Narrow down the list of candidates by doing a drive-by of the home, and then actually scheduling a visit with the owner or real estate broker handling the sale of the home.
Evaluate the location of the home you are looking to flip. Consider its location within the neighborhood, considering factors such as the quality of other homes on that street, the noise level, the residents living nearby ,and its proximity to transportation, schools and shopping. Would a buyer or a renter want to live there? Would you consider living there yourself? After all, if your investment deal falls through, it is a possibility that you could be living in this home.
Consider a home that needs the least amount of renovations. A home with "good bones" or one that has a strong foundation and needs only cosmetic work would make the best investment. Think of a renovation plan that would not only suit the potential buyer, but also one that would make the house "show" well. Buyers look at kitchens and bathrooms most when making a purchase, so it is important to spend sufficient funds on making these areas of the home look the best.
Crunch the numbers with your contractor or foreman , as well as the mortgage broker before making a final decision.
Negotiate for the lowest and best price possible once you have decided on the home to purchase. Consider your cost of renovations, re-sale price, and profit margin when making your offer. Negotiate for closing costs and look for any tax credits that may apply to your home purchase. If you are purchasing the home using a mortgage, search around for the lowest interest rate possible and consider that you will be making payments for at least a few months before the re-sale.
Plan renovations carefully. After you have gone to escrow and taken possession of the home, consider your renovation plans before hiring a contractor and a team of workers. Save money and limit costs of the renovation by doing some of the work yourself, or working as a general contractor and hiring smaller contractors to do specific jobs within the renovation. Do the best renovation job possible using good quality finishes and a quality construction job. Use neutral paint colors throughout. Insure a quality renovation of the kitchen and bathrooms by using high-end materials.
Hire a real estate agent to sell the home when the renovation is completed. Interview a few agents before deciding on an agent. Work with an agent familiar with the area who has a proven track record. Look at property sales in the area before deciding on a final asking price. Don't over-inflate your price for the area, and don't expect a large return on your investment, due to the type of neighborhood the home is in. Advertise the home in appropriate newspapers, using the ad to showcase the finest points of the neighborhood.
Financing for an investment property may be difficult to find at a lower interest rate and depends greatly on your credit score. Be sure to compare all of your financing options for the best deal.
Investing in a bad neighborhood is a huge risk and the profit return, if there is one, may be small.