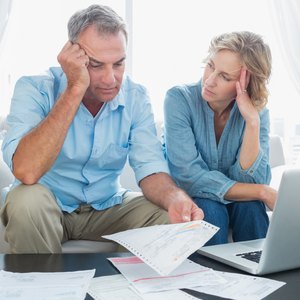 •••
Wavebreakmedia Ltd/Wavebreak Media/Getty Images
If you moved out of your last place of residence without paying your last month's electricity, gas or water charges, an old utility bill can come back to haunt you in a place you least suspect likely: your credit report. Your credit reports are maintained by three major credit bureaus, Experian, Equifax and TransUnion, so it's possible that the old utility bill may show up on one, two or all three of your credit files. Records of unpaid debt can linger in your credit history for seven years. The federal Fair Credit Reporting Act provides a process to dispute an old utility bill on a credit report as long as your claim is not frivolous.
Get a copy of your credit report from Experian, Equifax or TransUnion, which are the main credit reporting companies Make sure that you are well prepared when disputing an old utility bill on your credit report, so your efforts will result in success. There are a limited number of ways to get credit bureaus to remove this type of negative information, notes the Federal Trade Commission. For example, two such circumstances may be if you never requested service from the utility company, or the information supplied by the company to the credit bureau is in error (for example, you paid the bill in full and your payment was not entered). However, if you simply didn't pay the bill and it was turned over to a collections agency or was charged off, this negative record will remain on your credit report for seven years. After the record expires, it should automatically drop off of your report.
Collect supporting documentation to support the veracity of your claims--this will vary depending on your situation. For example, if you paid the utility bill in full, it may be helpful to acquire copies of canceled checks or proof of electronic transfers to the utility company. If someone fraudulently opened an account in your name, credit bureaus usually require that you provide copies of a police report, states the FTC. It may be helpful to contact the credit bureau first to determine what supporting documentation is required:
Equifax P.O. Box 740241 Atlanta, GA 30374-0241 1 (800) 685-1111
Experian P.O. Box 2104 Allen, TX 75013 1 (888) 397-3742
TransUnion P.O. Box 1000 Chester, PA 19022 1 (800) 916-8800
Dispute the utility bill in writing, urges the Federal Citizen Information Center. Provide your complete name and contact information in your letter, as well as a description of the old utility bill that you are disputing and why you feel the information should be removed or corrected. The FTC advises enclosing a copy of your credit report with the utility bill circled, as well as copies of supporting documentation. Make copies of everything you send to the credit bureau and send your correspondence by certified mail/return receipt requested.
Inform the utility company in writing that you are disputing an old bill using the same method described in Step 3, advises the FCIC. The FCIC indicates that a utility company may have sent you a notice that contains an address for such disputes. If the utility company files a notice of the old bill with any other credit bureau or consumer reporting agency, it must include a copy of your dispute.
Give the credit bureau around 30 days to look into your dispute and get back with you in writing. The FCIC notes that if an old utility bill record is removed or corrected, you will be sent a revised copy of your credit report. The utility company is required to inform all other consumer reporting agencies to which it reported that the record is to be removed or corrected. However, if you simply never got around to paying your utility bill and the record is not only accurate but less than seven years old, only time can remove it from your report.
If an old utility bill pops up on your credit report due as the result of someone assuming your identity to receive services, being prepared and organized can help you not only dispute this negative information on your credit report, but in all other areas of life (see Resources).
References
Writer Bio
Lisa Sefcik has been writing professionally since 1987. Her subject matter includes pet care, travel, consumer reviews, classical music and entertainment. She's worked as a policy analyst, news reporter and freelance writer/columnist for Cox Publications and numerous national print publications. Sefcik holds a paralegal certification as well as degrees in journalism and piano performance from the University of Texas at Austin.