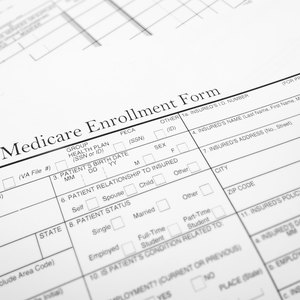 •••
zimmytws/iStock/Getty Images
Medicare is a partial-payment federal health insurance program for people ages 65 or older, as well as people with disabilities or end-stage renal disease. Only those individual providers, health-care facilities and home health agencies that go through a state-administered, federally mandated certification process are eligible to treat patients and submit Medicare insurance claims. According to HealthcareCredentialing.com, the time frame for becoming a provider is a minimum of about 60 days.
Get Started
The Medicare certification process is time-consuming, and because requirements vary depending on whether the provider is an individual, a health-care facility or a non-medical institution and on the services offered to patients, the process can be confusing. For this reason, the Centers for Medicare and Medicaid Services website is a good starting point for gathering information and understanding certification procedures in detail. As an alternative, providers can also contact the agency charged with administering the Medicare certification program in each state.
Submit a Provider Enrollment Application
Although you can fill out a paper-based application, the CMS recommends using the online option. In addition to filling out each section of the application, you'll need to supply your National Provider Identification Number and include an electronic funds transfer authorization agreement. An additional advantage to submitting a provider application online is the ability to get status updates as your application moves through the enrollment process.
The Medicare Certification Process
A completed Medicare provider application goes to the appropriate state agency, which checks the application and supporting documents for completeness and accuracy. For a health-care facility, the agency will provide a time frame in which you can expect an unannounced inspection to verify that your facility meets Medicare standards. Although an inspection is standard during enrollment, state agencies have the authority to conduct random unannounced inspections at any time. Once verifications and inspections are complete, the agency makes a recommendation and forwards the applications and results to the CMS for final approval or rejection.
Sign the Provider Contract
The provider agreement is a contract between a provider and the state. It typically remains valid for one year from the issue date, but in some states it renews automatically. The contract's clauses, terms and conditions identify the standards a provider must comply with to participate and receive reimbursement for eligible products and services. Once signed by both a provider and state representative, the contract becomes proof the individual or facility is a Medicare provider.
References
Writer Bio
Based in Green Bay, Wisc., Jackie Lohrey has been writing professionally since 2009. In addition to writing web content and training manuals for small business clients and nonprofit organizations, including ERA Realtors and the Bay Area Humane Society, Lohrey also works as a finance data analyst for a global business outsourcing company.