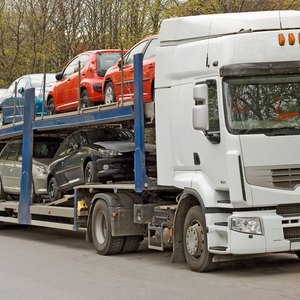 •••
Anna Dyudina/Hemera/Getty Images
Avoiding dealer-added freight and prep charges can be done by doing some research before agreeing to a sale. There are regulations that limit the amount a dealership can charge for dealer-added options such as freight and prep. Remember that all vehicles include a destination charge that is listed on the window sticker. This fee is charged from the manufacturer to the buyer and cannot be avoided. However, dealer-added freight charges applied for transferring a vehicle from one showroom to another should be avoided.
Research factory destination charges. All manufacturers charge a set fee to transport a vehicle from the point of manufacture to the dealership. This fee will vary from vehicle to vehicle, and it is listed on the window sticker. You can research destination charges on individual models by using a website such as Edmunds.com. The dealership must pay the destination charge, and, in turn, it passes this fee on to you.
Get multiple itemized price quotes. By using the Internet on your new vehicles of choice, you can make sure the price quotes are fair. Use a service like Edmunds.com or CarsDirect.com to get in touch with local dealerships and specialist Internet sales managers. Have the price quotes itemized to show an out-the-door price. This will allow you to compare the selling price, documentation fees, dealer freight and dealer prep charges between dealerships. One dealer might offer a lower selling price while adding in unnecessary dealer prep charges. All factory-required prep activities are included in the vehicle's sticker price.
Find the best overall quote. If necessary, negotiate with a dealership to get the lowest cash selling price and no dealer freight or prep charges. This can take time, and you might have to call the dealership or visit in person to get the best deal possible.
Visit the dealership, and complete paperwork. Make sure that all added fees are itemized on the buyers order and that you agree to them. Even if a dealer freight or prep charge is listed on the buyers order, you do not need to pay it. Some dealerships will have these fees printed on all forms so that consumers think these fees are legitimate and non-negotiable. Simply put, do not pay dealer freight or prep charges unless the dealership can prove that it is incurring a significant expense, as might happen if a vehicle is being transported hundreds or thousands of miles from one dealership to another.
References
Writer Bio
Michael Ryan is a freelance writer with professional experiences in the auto industry and academic training in music. Ryan earned a Bachelor of Arts with honors from Olivet College. Since college, he has been a featured speaker at music conferences at the University of Michigan and Bowling Green State University. Ryan is a published writer, with work featured on websites including eHow and CarsDirect.com.