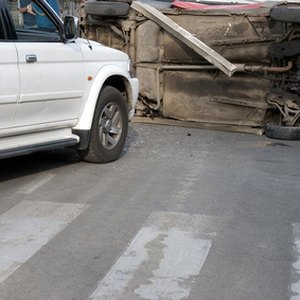 •••
Jeep and car after the road accident. image by Dragan Trifunovic from Fotolia.com
In New Jersey, the Special Automobile Insurance Policy (SAIP) offers an alternative for low-income households to obtain affordable automotive insurance. Decreasing the number of uninsured vehicles on the highways in New Jersey is the primary factor behind the plan, while protecting motorists regardless of socio-economic status. The policy offers limited coverage and is only available to those who qualify for Federal Medicaid with hospitalization. The insurance covers medical expenses only and costs the insured $365 annually.
Visit a local car insurance agent to sign up for the policy. Most agencies offer the policy, but if there is a problem locating an agency, a quick phone call to the Personal Automobile Insurance Plan (PAIP) customer service line will assist in locating an agency. The PAIP customer service number is 1-800-652-2471.
Present a valid Medicaid card to the representative of the insurance agency. The identification number on the card will indicate whether a Medicaid recipient qualifies for the SAIP.
Sign and date all documentation provided by the insurance representative. The policy will cost $365 for the year if paid in two installments or $360 in a single, upfront payment. These are the only two payment options.
Carry the insurance card provided by the agent at all times, inside the vehicle the policy covers.
The policy may list only one vehicle; however, everyone in the household on Federal Medicaid with Hospitalization can be on the policy if they are eligible to drive.
This type of insurance policy does not cover liability damages to another vehicle or other property, nor does it cover the vehicle listed on the policy. The coverage is only for medical costs--emergency treatment immediately after an accident and serious brain and spinal injuries up to $250,000.

If a driver's license or a vehicle's registration is suspended or revoked, the insurance agency cannot issue the policy.
References
Writer Bio
Kenneth W. Michael Wills is a writer on culture, society and business. With more than 15 years of experience in sales, public relations and written communications, Wills' passion is delighting audiences with invigorating perspectives and refreshing ideas. He has ghostwritten articles on a diverse range of topics for corporate websites and composed proposals for organizations seeking growth opportunities.