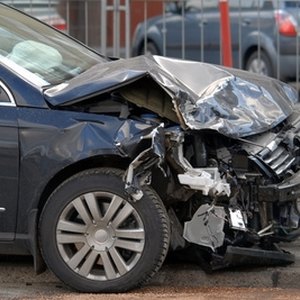 •••
Crash on the street. German auto model 2007. image by Dariusz Kopestynski from Fotolia.com
Filing an automobile accident claim, in many cases, can increase your premiums. After you have had an auto accident, there are several things you can do to lower your insurance premiums. The amount you save can vary from company to company. Each insurance company will likely have a variety of options for saving you money because of the competitive nature of the insurance industry.
Ask your insurance company about discounts. Check with your current insurance company to see how much your insurance premiums will increase as a result of the accident, and ask about different ways to lower your premiums. Your insurance company will not want to lose you as a valued customer, and they may offer a plan to help you reduce your premiums.
Make a list of five or six different insurance companies you would consider doing business with. Take the time to call every insurance company on your list and ask about the various discounts they offer. You will need to provide them with some information, including your recent accident. Find out which company has the best combination of options that will reduce your insurance premiums.
Consider increasing your deductible or taking a safety course. Deductibles are out-of-pocket expenses you must pay before the insurance company will pay a claim. If your deductible is $250, for instance, consider increasing it to $500 or $1,000. Some companies offer courses through the National Safety Council that, upon completion, will reduce your insurance premiums. Ask your provider and prospective providers about such courses.
Implement the new changes right away. Whether it is with your current insurance company or with a new company, you want the changes to go into effect immediately.
Get information on other changes to your policy. When you add your homeowner's or renters insurance policy onto your auto insurance, you can receive a discount from many insurance companies. Another way to potentially decrease your premiums is by adding another automobile to your auto insurance policy, qualifying you for the multi-vehicle discount. If you are receiving insurance from a new company, you may be get a discount by purchasing the insurance right from their website. Other perks to explore include your age. If you are 50 or older, some companies will give you a significant discount. In some cases the discount could be as much as 45 percent, according to the website Insure.com.
Consider a different car. The type of car you have can also affect your insurance premiums. Sports cars have a tendency to have higher premiums. Two-door cars often have higher premiums than their four-door counterparts. If you are in the market for a new car, perhaps you can purchase something that has lower insurance premiums.
Let your insurance company know if you park your car in a locked garage; mention any alarms; mention air bags and other safety features. If you are about to move, consider moving to an area that has a lower crime rate, which could also result in a lower premium.
If you decide to increase your deductible, make sure you have money put away in case an accident occurs.
References
Writer Bio
Melvin J. Richardson has been a freelance writer for two years with Associated Content, and writes about topics such as banking, credit and collections, goal setting, financial services, management, health and fitness. Richardson has worked for several banks and financial institutions and gained invaluable experience and knowledge. Richardson holds a Master of Business Administration in Executive Management from Ashland University in Ashland Ohio.