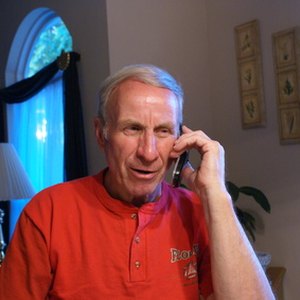 •••
senior cell phone user image by Mary Beth Granger from Fotolia.com
The U.S. Department of Housing and Urban Development has several affordable housing programs for low-income families that seniors on a fixed income can take advantage of. These rental assistance programs help seniors keep more of their monthly income in their pocket. There are also several programs for seniors who own a home. Seniors who have been impacted during the housing market down turn can call a HUD-approved housing counselor to get help. The counselor can determine if you are eligible for one of the foreclosure prevention programs and help you obtain an affordable payment plan.
Public Housing
HUD's Public Housing Program helps fixed income seniors make their rent more affordable. These senior homes provide a rental subsidy to the tenants. The senior is responsible for paying 30 percent of her income toward rent. HUD pays the remaining portion. The applicant must be 62 years of age or older to qualify for a senior housing unit. Senior housing programs typically offer additional services to the residents. A meals program or transportation services may be provided free of charge. Many HUD buildings do not have an age restrictions, and seniors qualify for those housing units as well.
Section 8 Housing Choice Voucher Program
The Section 8 Housing Choice Voucher Program is similar to the Public Housing rental subsidy program. Low-income seniors are able to have their rent subsidized, however, they can live outside of a HUD building. To qualify for help, the senior's income cannot exceed 50 percent of the area median income, or the very low-income limit level. Housing Choice Voucher holders are also responsible for paying 30 percent of their income toward the rent. Seniors can live in apartments, or houses in their desired area, as long as the landlord accepts a voucher as form of payment.
USDA Rural Repair Grant
The U.S. Department of Agriculture provides grants to seniors to help them make improvements to their home. The homeowner can obtain a grant for up to $7,500 to correct health and safety hazards on their property. The senior must be 62 years of age or older and his income cannot exceed 50 percent of the area median income. The home must be located in a USDA-designated rural area of the country. The grant can also be used to modernize the home. If the home is sold within three years of receiving the money, the USDA may require the homeowner to repay the grant.
Foreclosure Prevention Programs
There are several foreclosure prevention options for seniors who are struggling to pay their mortgage and can no longer afford the payments. The Making Home Affordable Programs help distressed homeowners obtain a loan modification, or refinance to reduce the monthly payments. Seniors that live in states that were impacted with the most foreclosures, may be eligible to get help with reducing the unpaid principal balance, or a mortgage reinstatement for those who have defaulted on their loan. To qualify for these state programs, the senior's income cannot exceed 120 percent of the area median income.
References
Writer Bio
Davina Price has been writing since 2003, specializing in grant and technical writing for government and nonprofit organizations. She currently is a licensed real-estate agent in Southern California and specializes in working with first-time home buyers. She holds a Bachelor of Arts degree in communications from the University of Southern California.