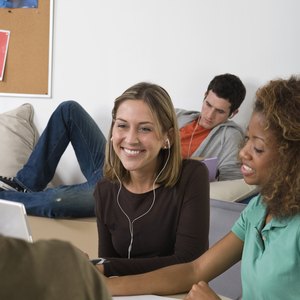 •••
Jupiterimages/Stockbyte/Getty Images
College can be expensive and sometimes grants and loans barely cover tuition costs, never mind room and board. That poses a problem for low-income students who need a place to stay. The U.S. Department of Housing and Urban Development (HUD) has programs designed to help people obtain affordable housing. Each has different qualifications and some might vary by state. However, with some planning, you can worry less about rent and focus more on your studies.
Voucher Program
The HUD subsidiary known as the Section 8 housing program offers affordable housing to those who qualify. While some confuse it with a public housing initiative, it's not. You can live anywhere a landlord accepts Section 8 vouchers. To qualify you can't make more than 50 percent of the median income in your area. Note that the program must use 75 percent of its funding to help those who make less than 30 percent of the median income. The waiting list can be long, so the sooner you apply the better your chances of getting aid quickly if you qualify. For more information, visit hud.gov.
Public Housing
HUD's public housing program offers units to low-income families in designated areas. Some come in the form of apartments, while others offer single family houses. The agency sets income limits for this program in two tiers: 80 percent and 50 percent of median income for a given area of the country. Depending on your financial situation, you could pay either 30 percent or 10 percent of your income for rent, which can make public housing an attractive option for students on a budget.
Student Policy
As a general rule, students can't qualify for HUD assistance unless they can prove they're independent of their parents. To be eligible you must have maintained your own residence for a year prior to your application. In addition, your parents can't claim you as a dependent on their tax returns. Note that most types of financial aid you receive above and beyond tuition costs will probably be counted as income. Check with your local HUD office for more information.
Other Sources
Some colleges and universities offer housing for married students and students with children. Prices tend to be reasonable and the facilities adequate for a family's needs. For example, Central Texas College in Killeen, Texas, offers one- and two-bedroom units for $545 to $630 per month, respectively. Conditions apply in most cases, so check with your school's housing office for more information. In addition, many college towns offer rental programs that give you the opportunity to pay for a room instead of an entire apartment. Though you will have roommates, they will help you offset the cost of rent.
References
Writer Bio
Michelle Dwyer is a U.S. Army veteran writing fiction and nonfiction since 2003. She specializes in business, careers, leadership, military affairs and organizational change and behavior. Dwyer received an MBA from Tarleton State University/Texas A&M Central Texas and an MFA in creative writing from National University in La Jolla, Calif.