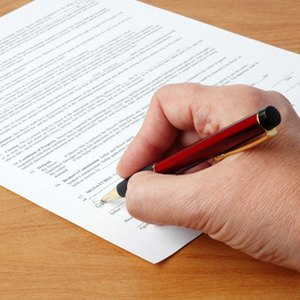 •••
signing a contract image by William Berry from Fotolia.com
Florida provides landlords legal recourse to evict holdover tenants who stay longer than the lease term or fail to comply with the provisions of the landlord-and-tenant lease agreement. Florida landlords must pursue legal recourse within the local circuit court where the property is located. Landlords may force a lawful eviction after following the legal procedures for forced evictions.
Residential Eviction Summons
Pursuant to the Florida Rule of Judicial Administration Section 2.215, Florida landlords may file a motion to evict and serve holdover tenants with a legal summons. The residential eviction summons allows courts to order speedy evictions in cases where landlords have previously unsuccessfully attempted to evict their holdover tenants. The landlord must serve the summons personally through a private process server or sheriff. The service must be personally effected or posted at the landlord's rental unit. Once the landlord legally serves the holdover tenant with eviction papers, the tenant has five days to answer.
Eviction Summons Requirements
Tenants must provide written answers to each of the landlord's complaints or allegations within the five-day period. The five-day limit includes only business days and does not include legal holidays or weekends. Tenants must state the basis for not leaving the rental premises, provide payment for all rent currently due to the clerk of the court (not to the landlord) and continue providing timely rental payments until the issue is resolved. The rental payments must be in cash, money order, from an attorney's client trust account or by certified check, payable to the circuit court. The tenant must deliver the written answers within five days to the circuit court clerk's office and provide a copy to the plaintiff or plaintiff's attorney, if an attorney represents the plaintiff. Tenants who disagree with the rental amount must file a legal motion requesting a judicial order for proper rent calculation.
Tenant's Answer
After providing the answers and rent to the clerk's office and to the plaintiff or to the plaintiff's counsel within the five-day limit, the tenant must challenge the rental amount separately within 20 days. The tenant must deliver this answer to the circuit court clerk's office and provide a copy to the plaintiff and/or his counsel within 20 days of receiving the residential eviction summons.
Automatic Evictions
Florida landlords are entitled to automatic eviction by the sheriff's office if the tenant does not answer the complaint or summons within five days. However, landlords cannot force evictions by changing locks, removing outside doors, discontinuing electricity or removing the tenant's personal property without complying with the legal eviction procedure.
References
Writer Bio
Jill Stimson has worked in various property management positions in Maryland and Delaware. Stimson worked for the top three property management companies in the commercial industry and focuses her career on property building logistics and tenant relationships. She holds a Juris Doctor and a Bachelor of Science in psychology.