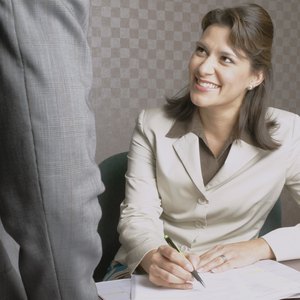 •••
Jupiterimages/liquidlibrary/Getty Images
After you're locked into a mortgage loan there's a good possibility that you'll experience some changes to your financial situation -- good or bad -- or interest rates will drop enough to make refinancing worthwhile. Whatever the reason for refinancing, the refinance process is similar to obtaining your first mortgage, from application to closing.
Mortgage Refinance Loans
A refinance is a completely new loan, rather than an alteration of the current loan. The refinance pays off the existing mortgage, in turn satisfying the conditions of the loan and closing that account. You then start making payments based on the refinance loan's new amortization schedule. If you have equity in your home, you may choose a cash-out refinance. This loan allows you to borrow more money on top of what you currently owe and get cash back. Most homeowners choose to refinance their mortgages to get a better interest rate, to extend or decrease the repayment term or to consolidate other debts.
Clear to Close
Many lenders offer refinance loans for conventional, FHA and VA mortgage loans. You don't necessarily have to use your current lender to refinance; you have the right to shop around for the best terms and rates. The refinance loan application is similar to the original mortgage loan application, as are the approval requirements. You'll need to have a good credit score, a good payment history on the current loan, enough income to support the payments and a low debt-to-income ratio. The refinance lender will set up an appraisal of the property to verify its value as well. Once the underwriters decide on your approval, the loan is marked clear to close and you can schedule a time and date for the meeting.
Closing Appointment
The closing appointment can take place at the lender's office, your home or a neutral location. Some lenders also offer electronic closings, where the documents are completed electronically. If you're attending a live closing, you will meet with a closing agent and a notary. The agent reviews the loan package with you and can answer any questions you have before you sign the required paperwork. The loan documents are essentially the same types you signed when your original mortgage closed. There will be a promissory note, deed of trust or mortgage and HUD-1 settlement statement. You also pay for your closing costs during this appointment. The closing costs are explained on the settlement statement and should be similar to the figure provided on the good faith estimate.
Right of Rescission
If your refinance loan is with a different lender than the original loan, you are entitled to a right of rescission period by law. The rescission period lasts for three days after the closing. During this time, you have the option to change your mind and cancel the loan. You sign the right of rescission document, which specifies the date and instructions for cancellation, at the closing.