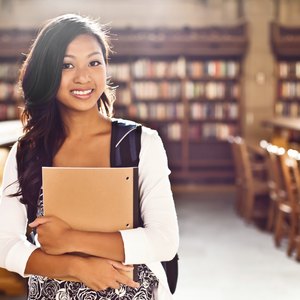 •••
arekmalang/iStock/Getty Images
The paralegal profession is projected to grow at a faster-than-average rate of 17 percent between 2012 and 2022, according to the U.S. Bureau of Labor Statistics. If you're considering a career as a legal assistant, you'll need a certificate or associate's degree in paralegal studies. Grants are available for women who want to prepare to enter the profession.
Returning to School
Some scholarships and grants for women help them to return to school. This includes women who are changing careers or going back after a break. While there are general grants available for women who are planning to return to school, some focus specifically on legal studies or vocational themes. For example, the Cornelia A. Bregman Scholarship provides an annual $2,000 award for New York women in select counties surrounding Albany who are returning to school to receive a vocational or technical degree such as paralegal.
From Women for Women
Scholarships for women from women provide support to females who are entering the legal field from those who are already established in it. The money may come directly from a woman or from a foundation that honors an outstanding female professional. For example, the Camille Stell Scholarship recognizes Ms. Stell's career as a paralegal. Funded by the Raleigh-Wake Paralegal Association, this scholarship is only open to legal assistant students in Wake County, North Carolina. Some of these scholarships commemorate an exemplary female paralegal. The Nancy McLaughlin Scholarship honors Ms. McLaughlin's career as a legal assistant. The award provides funds to students in the Austin, Texas area.
School Scholarships
Many individual paralegal schools and colleges that offer legal assistant training programs or degrees have their own scholarships. These funds are unique to the specific schools. For example, the Mississippi University for Women offers a bachelor's in legal studies that provides beginning students with the basics necessary to practice as a paralegal. The University offers four levels of scholarships to incoming freshman that range from $3,000 to $18,000 over the four years of school.
Scholarships for Survivors
Roughly 1.3 million women are victims of domestic abuse annually, according to the National Coalition Against Domestic Violence. There are scholarships that are specifically for these survivors of abuse. For example, the Women's Independence Scholarship program provides awards between $250 and $2,500 per year for survivors of intimate partner violence. Paralegal students who are attending a state-supported community college, state supported college, private college, for-profit school or technical school are eligible to apply. The General Federation of Women's Clubs also provides scholarships for survivors of domestic abuse. Through its Domestic Violence Awareness and Prevention project, the federation's Success for Survivor's Scholarship provides a $2,500 award for women attending public or private colleges or vocational schools.
References
Writer Bio
Based in Pittsburgh, Erica Loop has been writing education, child development and parenting articles since 2009. Her articles have appeared in "Pittsburgh Parent Magazine" and the website PBS Parents. She has a Master of Science in applied developmental psychology from the University of Pittsburgh's School of Education.