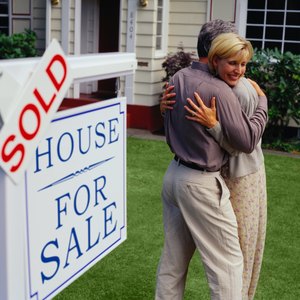 •••
Ryan McVay/Stockbyte/Getty Images
If you're ready to buy your first home in Philadelphia, you have several first-time homebuyer programs to choose from that offer either grants or interest-free loans you can use toward purchasing costs. These programs are available through local government agencies, credit unions and charities and have different requirements for income, housing eligibility and credit. A local lender can help you explore these first-time homebuyer programs to find which is right for you.
Philadelphia Homebuyer Assistance Grant
If you're a first-time homebuyer of a duplex or single-family house, you can take advantage of the $1,000 grant from JPMorgan Chase and the City of Philadelphia. This program requires that you complete a free homeownership course available through local housing counseling agencies. You can find an agency near you through the Philadelphia Division of Housing and Community Development website.
You'll also need to meet income requirements to qualify for this grant. As of May 2019, the maximum yearly income for a family of two is $80,500, while it's $100,510 for a family of four.
PHFA Assistance Loan Programs
The Pennsylvania Housing Finance Agency offers a few funding options including the Keystone Advantage Assistance Loan Program and HOMEstead Downpayment and Closing Cost Assistance Loan. These programs combine help with your closing costs and downpayment along with regular mortgage loans. Free financial counseling is also provided.
While it's not a grant, the Keystone Advantage Assistance Loan Program gives you an interest-free, 10-year second mortgage of 4 percent of the home's purchase cost (up to a maximum of $6,000) so that you'll need less cash upfront. Requirements include a credit score of 660 or higher, liquid assets of $50,000 or less and a loan amount of at least $500. You'll use a conventional, Veterans Affairs, Rural Development or Federal Housing Administration loan for your mortgage and will need to meet the requirements of those programs as well.
The HOMEstead Downpayment and Closing Cost Assistance Program is similar but offers you a maximum of $20,000 in home purchase cost assistance but forgives the interest-free second mortgage loan fully after five years. You'll need a minimum loan of $1,000, meet home purchase cost and income requirements and qualify for your chosen mortgage program. The PHFA also warns that you likely won't be able to use this program if the house you want to buy was built before 1978 due to lead-based paint restrictions.
FHLBank First Front Door Program
If you need help with your closing costs and down payment, FHLBank of Pittsburgh offers the First Front Door grant program that can help you with up to $5,000. This works through matching contributions where you get $3 for every $1 in personal cash you can put toward these homebuying costs. You can apply for the program through local credit unions such as Philadelphia First Credit Union and First Commonwealth Federal Credit Union.
Requirements include making 80 percent or less of the area's median income, participating in a four-hour counseling program, using a conventional mortgage program and meeting work requirements if you're currently a student. You'll have six months to buy your home upon approval. To avoid repaying the grant, you have to not sell the new house for five years.
Habitat for Humanity Homebuyer Assistance
The Habitat for Humanity Philadelphia has collaborated with the United Way to offer a 2:1 matching program for first-time homebuyers with low incomes and a low net worth. The max benefit of the program is receiving $4,000 in grant funds after you contribute $2,000 yourself, and the savings deadline for the program is two years.
To qualify, you need to meet income requirements – maximum of $32,481 for a family of two and $49,200 for a family of four – and show a net worth of under $10,000 (excluding one household vehicle and existing home). You'll have two years to find your home.
Home Loan Options and Requirements
First-time homebuyers have many loan options if they want to put less money down since conventional programs now allow a downpayment of 3 percent, VA loans require no money down and FHA loans require 3.5 percent down. Credit score requirements vary by the loan type, with FHA loans usually requiring the lowest score of 580, and other loan programs looking for scores of 620 or higher.
You'll also need to meet income and ratio requirements. Lenders generally look for two years of stable income, a housing ratio of 28 percent or less and an overall debt-to-income ratio of 43 percent maximum.
If you need a mortgage without two years of work history – maybe you're self-employed or changed jobs – consult with a lender to discuss options that fit your financial situation. For example, to get a mortgage with less than one year of employment, you might need to put much more down, show proof of assets, use a co-borrower or reduce your debt.
References
Writer Bio
Ashley Donohoe has written about business and technology topics since 2010. Having a Master of Business Administration degree, bookkeeping certification and experience running a small business and doing tax returns, she is knowledgeable about the tax issues individuals and businesses face. Other places featuring her business writing include Zacks, JobHero, LoveToKnow, Bizfluent, Chron and Study.com.