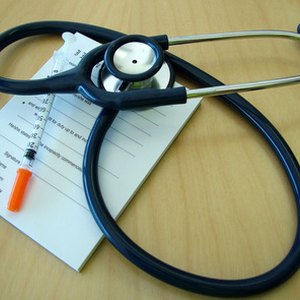 •••
doctors desk with a stethoscope image by Keith Frith from Fotolia.com
Funding for black males in graduate programs is available through grants and fellowships awarded through governmental sources, associations that support historically black colleges and universities, and private organizations. However, most of the available funding is dependent on the student's undergraduate grade point average (GPA) and the student's actual financial need. Consequently, just as for undergraduates, the Free Application for Federal Student Aid (FAFSA) is the starting point for graduate level aid. The federal FAFSA deadline is June 30, but many funding providers may have an earlier date requirement. Anyone applying for graduate level funding should check with the school where the studies are to be completed to get the specific FAFSA deadline. The FAFSA application should be completed online at www.fafsa.gov .
Graduate Assistance in Areas of National Need Program (GANN)
Graduate students who plan to pursue the highest possible academic degree in a designated area of national need can apply through their schools for the Graduate Assistance in Areas of National Need (GANN) program. High GPAs and demonstrated financial need (as indicated by the FAFSA) are the main requirements. Current areas of national need include: biology, chemistry, computer and information services, engineering, mathematics, nursing, physics, and educational assessment evaluation and research. Application for the GANN program is through the graduate department or school.
U.S. Department of Education Teacher and Student Development Programs Service Graduate Assistance in Areas of National Need Program 1990K Street, N.W., 6th Floor Washington, DC 20006-8524 202-502-7767 or (202) 502-7779 ed.gov/programs/gaann/index.html
Additional Federal Grant Programs
In addition to the GANN, there are over 1,000 other grant programs available through 26 federal agencies at Grants.gov. This site, which was developed as part of the 2002 E-Grants Initiative, "provides access to approximately $500 billion in annual awards."
U.S. Department of Health and Human Services Grants.gov 200 Independence Avenue, S.W. HHH Building Washington, DC 20201 800-518-4726 grants.gov/
Historically Black Colleges and Universities (HBCU)
To fund education at the 27 Historically Black Colleges and Universities (HBCU) in existence in 1944, the United Negro College Fund (UNCF) was created. Today there are 39 HBCUs that UNCF supports. UNCF administers over 400 scholarships, grants and fellowships to students pursuing college degrees through the post doctoral level. Although graduate level funding is provided by many sources, the main contributors include the Merck Research Laboratories and The Merck Institute for Science Education, the Gates Millennium Scholars Program and the UNCF Corporate Scholars Program. Interested students should contact UNCF for additional information and the full application process.
United Negro College Fund 8260 Willow Oaks Corporation Drive Fairfax, VA 22031 800-331-2244 uncf.org/aboutus/index.asp
Diversity City Media Funding Sources Directory
Many professional organizations and associations provide money for black males to pursue graduate level studies. One of the best sites for finding these organizations is maintained by Diversity City Media, a black press release media service that specializes in distributing news to African American magazines and media outlets. The web site lists funding sources for undergraduate, graduate and postdoctoral studies.
Diversity City Media 750-Q Cross Pointe Road Columbus, OH 43230 866-910-6277 blacknews.com/directory/black_african_american_scholarships.shtml
Private Organizations
Other sources for funding include professional organizations, sororities, and fraternities. Professionals in the fields of medicine, dentistry, law, business, computers, research and evaluation and many other careers have set up foundations or support funding for blacks males to receive advanced degrees through their fraternal organizations. An example of such funding is provided by the Alpha Kappa Alpha Sorority, Inc. Although a female group, it does not discriminate by gender when awarding educational funding and the group supports graduate level applicants. More information and additional links for funding for this organization are available on its web site.
Alpha Kappa Alpha Educational Advancement Foundation, Inc. 5656 South Stony Island Avenue, Chicago, IL 60637 800-653-6528 or 773-947-0026 akaeaf.org/programsandinitiatives/
References
Resources
Writer Bio
Patrice Robinson is a retired professional educator and administrator. She worked in the public schools for more than 30 years. She holds a bachelor's degree in the teaching of English, two master'sdegrees (one in English and one in education) and a doctorate degree in education.