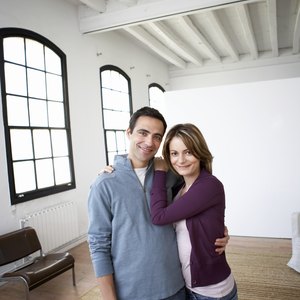 •••
Getty Images/Photodisc/Getty Images
The Federal Housing Administration has come a long way since its start in 1934. The government agency, which is overseen by the Department of Housing and Urban Development, makes home buying and refinancing more affordable for moderate-income borrowers. The FHA expanded its mortgage insurance programs to include niche customers such as seniors and borrowers for "fixer-uppers." The FHA reimburses lenders if you default, allowing lenders to make loans despite minimal equity and credit challenges.
Most Popular Program
The FHA's most widely used program helps you purchase with as little as 3.5 percent down or refinance up to 96.5 percent of your home's value. Known as Section 203(b) insurance, it covers a variety of one- to four-unit single-family homes intended for use as primary residences. You can buy or refinance a condominium unit, townhouse, detached house or a manufactured home with 203(b) insurance. The home, and any complex or project it belongs to, must meet HUD appraisal standards and FHA standards for mortgage insurance.
Rehabilitation Loan
Buyers can purchase a home in need of minimal to extensive repairs using the FHA's rehabilitation loan program, or 203(k) mortgage insurance. You can buy a home that needs improvements with a single rehabilitation loan and begin work on the property upon the close of escrow, rather than obtaining a purchase loan and a subsequent construction loan after closing. You draw from an escrow account to pay for work as it's completed and approved by an FHA inspector. One or two appraisals, depending on the project's complexity and scope, determine the home's value after improvements. The lender bases your maximum loan amount, in part, on this projected value. The program follows the FHA's typical down payment or equity requirements of 3.5 percent when buying or refinancing.
Reverse Mortgage
Reverse mortgages allow borrowers ages 62 and up to buy or refinance a home. The FHA's reverse mortgage program, known as the Home Equity Conversion Mortgage, helps borrowers with limited or no income meet everyday living expenses through installment payments to the senior. The HECM offers five payment plans through which the borrower may tap into home equity, using it as a line of credit. To borrow against the home's value, the senior must own the home outright or owe a minimal amount. The HECM loan is due and payable upon the senior's death or when he stops using the home as his primary residence. The borrower must also complete a consumer information session, or HECM counseling, with a HUD-approved counselor.
Down Payment Assistance
FHA mortgage insurance programs work in conjunction with a variety of state and local government homebuyer assistance programs. Usually targeted toward first-time buyers and low- to moderate-income borrowers, the government programs help you meet down payment, and sometimes, closing-cost requirements. The government assistance may involve a monetary gift or secondary financing. When gifting a down payment or closing costs, the government entity does not require you to repay the gift as long as you meet all program requirements, such as occupying the home for a specified amount of years. Assistance in the form of secondary financing, however, requires repayment when you sell, refinance or otherwise pay off the FHA first mortgage.
References
Writer Bio
Karina C. Hernandez is a real estate agent in San Diego. She has covered housing and personal finance topics for multiple internet channels over the past 10 years. Karina has a B.A. in English from UCLA and has written for eHow, sfGate, the nest, Quicken, TurboTax, RE/Max, Zacks and Opposing Views.