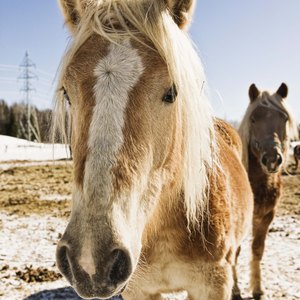 •••
Jupiterimages/Brand X Pictures/Getty Images
The federal government's Bureau of Land Management (BLM) operates the National Wild Horse and Burro Program, designed to help the wild animals thrive. According to BLM, the animals are descended from horses and burros released by Spanish explorers and Native Americans, among others. Those who are interested in preserving the animals may qualify for a government grant that will help pay for their purchase and care.
Nevada Training and Adoption
Individuals interested in caring for wild horses or burros in Clark or Lincoln Counties in Nevada may be interested in the Training-Adoption Mentoring Project. The total funding for the grant is $52,000, and grant awards range from $500 to $10,400. There are no restrictions on who may apply for the grant. Susan Kaller, a grants and agreements specialist, administers the program. As of 2011, she can be reached at 775-861-6559.
Utah
The Bureau also offers grants to Utah residents and governments, both state and local. The program, called the Utah Wild Horse and Burro Program, is funded at almost $1.1 million, with a range of funding from $155,000 to the entire grant. The purpose of the grant is to place the animals into private ownership, while the horses will be trained to use in the emerging scientific field of Equine Assisted Therapy. Maria Gochis, also a grants and agreements specialist, administers the grant. As of 2011, she be reached at 801-539-4178.
Nevada Holding and Training
Nevada is home to another BLM grant called the Nevada Wild Horse Holding and Training Program. It's funded at $3.125 million, and has a maximum grant award of $625,000. Eligibility is unrestricted, but funds must be used to care for the horses properly, while also ensuring their future adoption or use, and provides essential holding capacity for the horses. Susan Kaller administers this program, in addition to Nevada's training and adoption grant program.
A Warning About Grants
Individuals who would like to apply for federal grant money to adopt wild horses or burros should be aware that there are several legal organizations that charge for grant information, even though it's free on the Internet. The federal government does not ask applicants to provide credit card numbers or social security numbers on grant applications. The grants website, Grants.gov, provides all of the information a potential grantee needs to apply for a grant, including instructions and contact information.
References
Writer Bio
Lisa Bigelow is an independent writer with prior professional experience in the finance and fitness industries. She also writes a well-regarded political commentary column published in Fairfield, New Haven and Westchester counties in the New York City metro area.