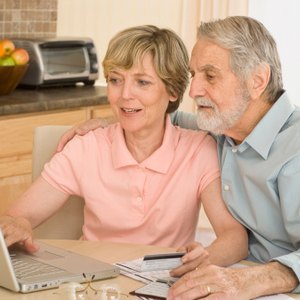 •••
Comstock Images/Comstock/Getty Images
While there are different grants that various government agencies award senior citizens who apply for college, they should begin their search with federal grant programs for which anyone can apply. No government agency will discriminate against college students because of age, and federal grants may be sufficient to pay for a college education.
Federal Pell Grants
The first step that senior citizens should take is the completion of the Department of Education's Free Application for Federal Student Aid. Senior citizens who complete this application and are approved for financial aid typically qualify for the Federal Pell Grant. In 2011, the Federal Pell Grant awards up to $5,550 to students. Even more important, there are federal grants for which senior citizens may be ineligible if they do not qualify for Pell Grants.
Federal Supplemental Educational Opportunity Grant
While not imperative that senior citizens qualify for Pell Grants to be eligible for Federal Supplemental Educational Opportunity Grants, students who are Pell Grant eligible receive preference over students who are ineligible. Like the Pell Grant, the Supplemental Educational Opportunity Grant is a need-based grant. Senior citizens who are eligible for the grant can expect to receive between $100 and $4,000 during the course of the academic year.
Academic Competitiveness Grant
Senior citizens must be Pell Grant eligible to qualify for the Academic Competitiveness Grant, which is a merit-based grant. Senior citizens who are eligible for the Pell Grant and qualify for the Academic Competitiveness Grant may be entitled to $750 in their first year of college and $1,300 in their second year of college. Unlike the grants mentioned thus far, however, students must achieve a 3.0 grade point averages to qualify for this grant.
The National Science and Mathematics Access to Retain Talent Grant (National SMART Grant)
Another grant for which merit is a factor and senior citizens must be Pell Grant eligible to qualify is the National Science and Mathematics Access to Retain Talent (SMART) Grant. Eligible senior citizens will receive as much as $4,000 during their junior and senior college years. In addition to maintaining a 3.0 grade point average, students must select majors in areas such as science, mathematics or technology, which are considered high-need areas.
Institutional Grants
Grants that are awarded to college students at the college level based on merit and financial need. Such grants are referred to as institutional grants. Senior citizens whose financial packages, along with their expected financial contributions, do not cover all of their college expenses, can speak with college financial counselors who can determine whether there are funds available at the college level to assist them.
References
Writer Bio
Novelist Weldon Garrett published "Against A Brick Wall" and "The Nightingale Call" under Writer's Press and iUniverse in 2002 and 2006 respectively. A corporate business manager, he also teaches writing. He earned a Bachelor of Arts in English and political science from Hunter College and a Master of Arts in business from the State University of New York, Empire State.