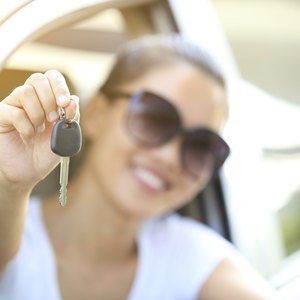 •••
lzf/iStock/Getty Images
Zero percent financing on a new car may seem like a sales pitch that's too good to be true. For many, that is indeed the case. While even people without perfect credit can qualify for these loans, there usually are many more hurdles to securing this deal than other types of interest-bearing loan options. For best results, do your homework before heading into a dealership to test drive cars and crunch numbers.
Have a Great Credit Score
Only people with exceptional FICO scores qualify for incentives like zero percent financing. That number varies from one dealer to another, but credit scores are usually expected to be in the 700-720 range, if not higher. Check your credit before you go car shopping and fix any errors or inaccuracies so you position yourself for the best possible interest rate. Take a copy of the report with you, along with your photo identification and any written offers for loans you have from competitors or private financial institutions. This better positions you to make a good deal.
Crunch the Numbers
Sometimes special offers and rebates are more financially enticing than zero percent financing, especially if you qualify for a relatively low interest rate anyway. You can use dealer incentives to make a larger down payment and reduce monthly costs or pocket cash for other purposes. For best results, research new car prices and current incentive programs so you'll know what's available when you enter the dealership. Some companies will offer them up front, but others won't disclose them unless you specifically ask.
Be Prepared to Negotiate
If you're eligible for a zero percent interest rate, you may be ineligible for any other special perks like cash-back rebates or dealer incentives. New car dealers sometimes limit the pool of vehicles and options zero percent loans cover. You may be required to take a shorter-than-average loan period, like 24 to 36 months versus 48 to 72 months for a more conventional loan. That means higher monthly payments. In negotiations, ask for exactly what you want, but know in advance what your ultimate price point and terms are for making a deal. That will take some of the stress out of the negotiating process.
Don't Be Afraid to Walk
Shopping for a new car can be an exhaustive process, but don't be afraid to walk away from the negotiating table if you're not getting what you want. When you qualify for zero percent interest, you may be tempted to not haggle so much on the bottom line price, which is a mistake. Other dealerships may be willing to make you a better deal, and the dealership you're working with may still pursue even you after you leave.
References
Writer Bio
Lisa McQuerrey has been an award-winning writer and author for more than 25 years. She specializes in business, finance, workplace/career and education. Publications she's written for include Southwest Exchange and InBusiness Las Vegas.