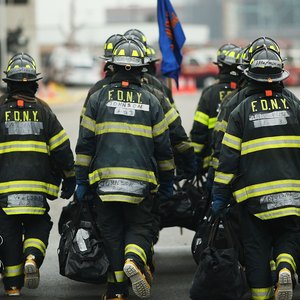 •••
Spencer Platt/Getty Images News/Getty Images
Fire departments often require a college degree in fire science or fire engineering for promotion to certain positions. Current firefighters and students planning careers in firefighting can find scholarship programs to help pay for their education. Select programs offer funding for students planning future careers in fire science, while others provide money for firefighters returning to school to earn a degree.
Association Scholarships
Professional firefighter associations often administer scholarship programs. For example, the International Association of Fire Chiefs Foundation (IAFCF) awards multiple scholarships to students with at least two years of professional firefighting experience. Foundations, corporations and individuals fund IAFCF scholarships, which include the Motorola Future Leaders Scholarship Award, Garry L. Briese Scholarship Award and Fire Explorers scholarship. The National Fire Protection Association awards numerous scholarships such as the Arthur E. Cote Scholarship, which pays a minimum of $5,000 to students studying fire engineering. The association's John L. Jablonsky Scholarship offers $5,000 to full-time and part-time students enrolled in undergraduate fire engineering programs in Canada and the U.S.
Regional Scholarships
Certain scholarships offer funding only to students in particular geographic regions. For instance, the Cumberland Valley Volunteer Firemen's Association awards multiple scholarships to residents of the Mid-Atlantic states, including West Virginia, Pennsylvania, Virginia and Maryland. The association's Kenneth E. Butts Memorial Scholarship offers a maximum of $500 to students enrolled in emergency medical service programs. The association's J.R. Haines Memorial Scholarship pays a maximum of $1,000 to students enrolled in fire investigation and fire science programs. The South Carolina State Firefighters' Association offers scholarships exclusively for its members. The association awards funding up to $1,000 for students enrolled in four-year and two-year degree programs related to fire service.
School-specific Scholarships
Select firefighter scholarships require students to attend certain colleges or universities. Colorado State University awards the Jack S. Barrows and John H. Dieterich Scholarship in Fire and Atmospheric Science to students enrolled at the university's Warner College of Natural Resources. The program offers support for fire science program students with at least a 2.5 grade point average. The Maryland Higher Education Commission offers the Charles W. Riley Fire and Emergency Medical Services Tuition Reimbursement Program for firefighters, rescue workers and ambulance personnel enrolled in emergency medicine and fire technology programs. Candidates must work in and attend a post-secondary institution in Maryland.
First Responder Scholarships
Firefighters can often obtain school funding through first responder scholarship programs. For example, Grantham University in Kansas City, Missouri offers the First Responder's Scholarship Program for police officers, paramedics and firefighters. The program offers reduced tuition and grants to pay for software and textbooks. Northwestern College in Bridgeview, Illinois offers a 15 percent tuition discount to all first responders, including emergency medical technicians, police officers and paramedics, as well as firefighters.
References
Resources
Writer Bio
Michael Evans graduated from The University of Memphis, where he studied photography and film production. His writings have appeared in numerous print and online publications, including International Living, USA Today, The Guardian, Fox Business, Yahoo Finance and Bankrate.