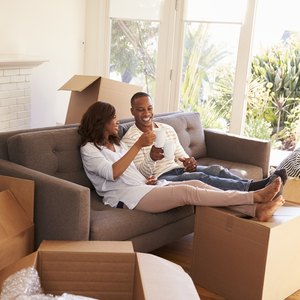 •••
monkeybusinessimages/iStock/GettyImages
If you're eager to move out of your apartment or your parent's basement, buying a starter home may be an appealing option. A starter home is usually a smaller house than you might prefer in the long-term, but gives you the benefits of home ownership sooner rather than later. While starter homes aren't for everybody – in fact, about three quarters of first-time home buyers would prefer to buy a forever home rather than a starter home – keep in mind that the average American moves 11.4 times in a lifetime. Chances are that when you do buy your first house, it won't be the home you retire in.
Is a Starter Home the Right Choice for You?
For generations, buying a starter home has been the traditional approach to buying a first home, and it offers several clear advantages, compared to waiting for your ideal home to be in your price-range.
The idea behind a starter home is quite simple: Instead of paying rent, you put your money into the mortgage of a small home, which builds equity while improving your credit rating. After a few years, you can sell the starter home, ideally at a profit, and use the money to buy a larger home.
However, a starter home isn't the right fit for everyone. If your rent is cheap but interest rates are high, you may be better off saving for a larger home. If you aren't certain where you will be living in the next few years, or if you don't have a steady job, or if the houses within your budget today need a lot of work – and you aren't interested in doing that work yourself – you may be better off waiting. Keep in mind that it generally takes five years before a starter home appreciates in value, so if you're planning to move again in a year or two, buying a starter home that you have to sell too early could be costly.
If you answer "yes" to any of these questions, a starter home may be a good match for you.
Do you plan to stay in the same community for the next five years?

Do you have enough money for the down payment on a smaller home, but not yet enough for a larger one?

Do you have plans to rent a house as a landlord one day?

Is the prosepct of renovating a house exciting to you?

Are you tired of paying rent?

Does the idea of paying for a large mortgage on a large house worry you?

How To Determine What You Can Afford
Financially speaking, consider three things when deciding what you can afford before buying a home.
First, your down payment. In most cases, this is at least 10 to 20 percent of the house's sale price if you are getting a traditional bank mortgage, however you may be able to buy a home with a smaller down payment. Keep in mind that if you do put down less than 20 percent, you will likely be required to buy mortgage insurance, which protects the lender should you default on your payments.
Second, you need to ensure that you will be able to pay the monthly mortgage payments. This often depends on the interest rate being charged by the bank. If you have a poor credit score, expect to pay a higher interest rate than the advertised lowest rates. Each year you are entitled to a free credit report from each of the major credit bureaus at annualcreditreport.com, so you can review them for inaccuracies. Take any steps necessary, like paying outstanding loans and ensuring you don't miss payments on credit cards, so you have a strong score.
Third, you need to ensure that you can afford all the additional expenses that come with buying a home, including property tax, water, sewage, heating – and have enough left over for repairs and emergencies, like the sump pump in the basement breaking down in the middle of a rain storm. In addition to your down payment, you will have to pay closing costs and lawyer fees.
Using Government Programs
If you have a low to moderate income, you may be able to get some help from the government, particularly if you have never owned a home before. In 2017, for example, Fannie Mae offers an option to get a home with as little as a 3-percent down payment, as well as financial assistance for renovations and energy efficient upgrades to your home once you buy it.
Many state governments, like California and Michigan, also offer assistance to new home owners. As an example, if you live in Michigan, you may qualify for down payment assistance of up to $7,500 on a home costing up to $224,500, provided you have a good credit score and are willing to take the state's Homebuyer Education class.
Finding a Home With a Good Resale Potential
Buying a starter home means that you intend to sell it in the near future, ideally making a profit. While the housing market may be unpredictable at times, and there are no guarantees that a house will always increase in value over the years, there are definitely some things to look for that will make it more likely you can make some profit.
First, consider the home's location. People like to buy homes that offer the convenience of reducing travel time, so any house that is close to a school, their workplace, or a shopping mall will be attractive. Houses that are close to a major transit route or a highway may also be in high demand, provided they aren't so close that traffic noise is problematic.
Next, look at the home's environment. A home with a nice view of a nearby park from the back window will attract more buyers than a home that is next to a scrap metal yard. Explore the neighborhood and talk to neighbors if possible. Find out if there are any changes coming to the area that could affect the resale value in the future. Someone may be selling a home today because of noisy street construction that's been scheduled for the next two years, but if you're willing to put up with that yourself, you may find your house is very attractive to others once the construction is complete.
In addition, consider the layout of the home. Young families will want a home with three or four bedrooms and, often, two bathrooms. Bigger closets are always better than small ones, with a walk-in closet in the master bedroom being ideal. Pay particularly close attention to the kitchen and living room. Large main rooms with lots of natural light attract buyers.
Finally, examine the yard. Large trees may be pretty from the street, but are less attractive if they block a homeowner's view or litter the gutter with leaves. Old trees can also add to your costs if they have to be removed.
Having the Home Inspected and Appraised
Before you get a mortgage finalized, your bank will likely want the home to be appraised, to ensure that it's worth what you are paying for it. In addition to this, you should also have the home inspected. In most cases, home inspectors are licensed by the state. An inspection can tell you if there are any problems with the house that may not be visible to the naked eye, like a cracked foundation, insufficient wiring, plumbing problems, or a roof that is in need of immediate repairs. Make sure the inspector checks the water and air quality in the home, as well as for termites and other wood-destroying insects, fungi, mold and other allergens. The inspector will provide a written report, but it's a good idea to be present during the inspection so you can ask questions about the home.
Understanding Equity and Appreciation
A common misconception among new home buyers is that the money you pay each month contributes to your home's equity. In the early years, the bulk of your money is paying the interest, rather than the principal of your loan. After a year of paying into a $240,000 mortgage you would typically put only about $1,300 towards the principal. After five years, your payments would have paid about $7,500 of the principal.
Rather than your mortgage payments building equity during the first few years of home ownership, it's usually a steady increase in your home's value that builds equity. Sometimes you can improve the home's value yourself, by painting, renovating and otherwise making the house more appealing to buyers. In most cases, however, your home's value will be tied to the local real estate market, which can fluctuate from community to community. Layoffs by a major local employer, a recession, or other factors out of your control could mean your house might sell less than what you bought it for in the near future. The truth is that buying a starter home, like any investment, does come with risks, so the more research you do, the better off you'll be.
References
Writer Bio
A published author and professional speaker, David Weedmark has worked as a technology consultant for many small businesses and was once a professional financial advisor. David has also has written hundreds of articles on money matters for newspapers, magazines and online publications.