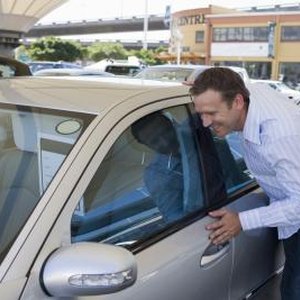 •••
Jupiterimages/Pixland/Getty Images
In Washington State, you can use an affidavit of loss document to request a replacement for a lost title, license plates, registration, decal or tabs. The form also serves to release interest in a vehicle or marine vessel that you wish to sell or give away. If you use an affidavit of loss to sell a vehicle, you also must submit a Report of Sale to your vehicle licensing office within five days of the sale.
Step 1
Go to the Washington State Department of Licensing's website. Scroll down to the bottom of the Web page and click on "Get a form" from the list of links underneath the heading "Do More Online."
Step 2
Click on "Affidavit of Loss/Release of Interest" from the list of forms on the next Web page.
Step 3
Click on the link labeled "Open the Affidavit of Loss/Release of Interest form" to download and print the affidavit of loss.
Step 4
Provide your license number, title number and vehicle identification number or vessel hull identification number in the appropriate spaces at the top of the form. Fill out the make and year of the vehicle.
Step 5
Make a check in the appropriate box to indicate what you have lost. There are boxes for the plates, decal, title, registration and tab. Only check one of these boxes if you are filling out this form to replace a lost item. You do not need to replace a lost title or other item if you are using this form to release your interest in the vehicle in order to sell it or give it away.
Step 6
Bring the form to a public notary. Show the public notary your photo identification. If you are filling out the form to replace a lost item, sign the first signature line and provide your Washington state driver's license number. The second signature section is to release interest in the vehicle and the third is to transfer a Gross Weight License to the new owner. Sign the signature line that applies to your situation and have the form notarized.
Step 7
Contact your local vehicle licensing office. If you wish to replace a lost item, ask for the current replacement cost for that particular item. The fees vary widely depending on your vehicle and which item you need to replace. Bring the notarized form to the office along with the appropriate fee.
Step 8
Submit the form to your local vehicle licensing office along with a Certificate of Ownership application if you wish to release interest in the vehicle.
References
Writer Bio
Catherine Chase is a professional writer specializing in history and health topics. Chase also covers finance, home improvement and gardening topics. She holds a Bachelor of Arts in American studies from Skidmore College.