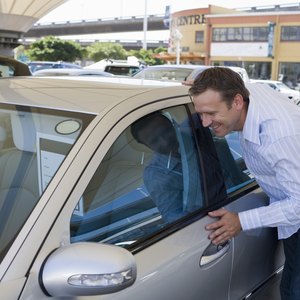 •••
Jupiterimages/Pixland/Getty Images
Naturally, it is best to keep important original documents safely locked up. In cases when a sensitive document has gone missing, there is recourse through an affidavit of loss. An affidavit of loss is used to record a loss of property or ownership documentation, such as a car title. It can be completed by the owner, an individual with possession of the property or an individual with a legal interest in the property.
What Is an Affidavit of Loss?
A lost title of property can lead to problems. If a document is lost, damaged or stolen, it can make proving ownership a challenge. A missing document might also create the opportunity for fraud.
An affidavit of loss is typically used when you have a lost or stolen item that you believe is worth more than its actual value. If you want to file a claim with an insurance company and get your item replaced or compensated, you can file an affidavit of loss.
State agencies may also require an affidavit of loss for assets and items that fall under the purview of state-level administration. Lost vehicle titles will often require an affidavit of loss to be filed with a state department of licensing or department of motor vehicles.
How to Use an Affidavit of Loss
Affidavits of loss are formal declarations that an important document or asset has been lost or stolen. Often, this is documentation of ownership or a contract that needs to be replaced. An example would be a title certificate or stock certificate. Passports are another example.
The requirements around an affidavit of loss will depend on the issuer, whether it is an insurance company, court, business or government agency.
Insurance companies will often require affidavits of loss before processing claims. Some affidavits of loss must be notarized. Most will require information about the owner and the circumstances of the loss. In any case, an affidavit of loss is often required to obtain a copy of the document or an insurance claim.
A common use for an affidavit of loss is for a lost vehicle title, explains the Washington State Department of Licensing (DOL). This is a required document when selling a vehicle or vessel, as it proves ownership. When the lost item is a vehicle title, the affidavit of loss must be submitted to the issuing state.
Filing a Washington Release of Interest
Washington requires affidavits of loss to be filed through the Washington Department of Licensing (DOL) for lost titles, license plates, registrations, decals and tabs. Washington release of interest for a vehicle or vessel will go on the same form to be submitted to the DOL.
The state DOL offers the Affidavit of Loss/Release of Interest document that must be completed in order to receive a replacement. This form is also used when selling or gifting a vehicle for which there is no original title. Additionally, this is the form to be used by anyone wishing to sell or gift a vehicle on behalf of a deceased person.
The Affidavit of Loss/Release of Interest form must be filled out entirely and notarized before being submitted to the DOL. Sellers must report the sale to the state within ​five days​. Buyers have ​15 days​ to transfer the title after a sale.
It should be noted that documents in addition to the affidavit of loss may be required. For example, if a person has passed away, a copy of the death certificate should be included. A bill of sale must be included for a vehicle sale.
The state DOL requires anyone wishing to change their name on a vehicle title to submit the Affidavit of Loss/Release of Interest Washington form with court documentation of the name change or a Vehicle/Vessel Owner Name Update Affidavit for Individual form.
References
Writer Bio
Hashaw Elkins is a financial services and tax professional, as well as a project management consultant. She has led projects across multiple industries and sectors, ranging from the Fortune Global 500 to international nongovernmental organizations. Hashaw holds an MBA in Real Estate and an MSci in Project Management. She is further certified in organizational change management, diversity management, and cross-cultural mediation.