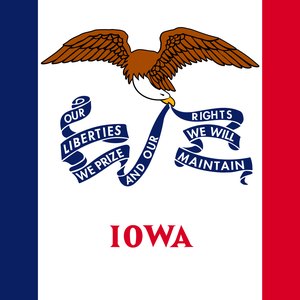 When individuals in Iowa sign onto tax.iowa.gov to prepare for the tax year, they will find that Iowa has a graduated tax rate. That means the tax rate is based on gross income earned.
You'll find your gross income on the W-2 Form you receive from an employer. If you're a contract worker, it will be on your 1099 Form. These forms are also applicable to the IRS. You'll need one or both of these documents to do your tax filing.
Who Must File Iowa Income Taxes?
Residents of Iowa must file an income tax return if their status is single with a net income of more than ​$9,000​. If filing status is other than single and net income is ​$13,500​ or more, a state tax return must be filed.
Dependents who were claimed on another Iowa tax return and who have earned a net income of ​$5,000​ or more must file an individual income tax return.
Nonresidents who earned ​$1,000​ or more from Iowa wages or sources are required to file a state income tax return. Wages or sources include tips, Iowa unemployment benefits, Iowa gambling winnings, rental income and any other source of income from Iowa.
If you don't meet any of the requirements, but Iowa taxes were withheld from your paycheck, you'll have to file to receive a refund.
What Are the Forms to Use?
For instructions on how to fill out your income tax forms, IA 1040ES will walk you through the process. Use Form IA 1040 to file your tax return. An online fillable version is also available. If you need to make a change to your income tax return after filing, the Iowa Department of Revenue amended individual income tax return is IA 1040X.
What Is the Tax Rate in Iowa?
It's important to check these rates for 2021 income returns.
​up to $1,676​: the tax rate is .33 percent
​over $1,676 up to $3,352​: the tax rate is .67 percent
​over $3,352 up to $6,704​: the tax rate is 2.25 percent
​over $6,704 up to $15,084​: the tax rate is 4.14 percent
​over $15,084 up to $25,140​: the tax rate is 5.63 percent
​over $25,140 up to $33,520​: the tax rate is 5.96 percent
​over $33,520 up to $50,280​: the tax rate is 6.25 percent
​over $50,280 up to $75,420​: the tax rate is 7.44 percent
​over $75,420 and above​: the tax rate is 8.53 percent
What Are the Filing Deadline and Extension Process?
Following the tax year, the individual tax return filing due date is ​April 30​. However, if this date falls on the weekend, the return is due the following Monday. So, this will actually fall on ​May 2, 2022​.
Iowa doesn't have an extension process or paper form. As long as you have paid ​90 percent​ of your required taxes by May 2, you can automatically extend filing a return to ​October 31​ in the same year.
What are the Penalties for Late Filing and Underpayment of Taxes?
If a state income tax return is not filed in a timely manner and at least ​90 percent​ of the tax due is not paid when finally filed, a penalty of ​10 percent​ will be added to the tax due.
Filing on time but failing to pay the taxes due results in a ​5 percent​ penalty if at least ​90 percent​ of due taxes are not paid.
And if an individual willfully fails to file, a ​75 percent​ penalty will be added to the tax due. This is also the case if a taxpayer fails to file with intent to evade taxes.
Besides the penalties, you must also pay an accrual interest rate on any delinquent taxes. This interest rate is charged until all taxes are remitted. The rate is ​0.5 percent monthly,​ ​6 percent annually​ and ​0.016438 percent daily​.
Tax professionals who understand tax law can help you file or provide you with tax information to avoid penalties.
Where Do I Mail/E-file My Iowa Return?
If you want to mail in your individual state income tax return, send it to Iowa Income Tax Document Processing P.O. Box 9187 Des Moines, IA 50306-9187
You can also hand-deliver your return. You will need to go to the Hoover State Office Building on the first floor. The address is 1305 E. Walnut Des Moines, IA 50319.
In Iowa, 92 percent of income tax returns were filed online for 2020. It is a convenient way to file and receive a refund promptly. Individual e-filing options are available.
How Do I Pay Taxes Due?
When you e-file you are able to pay a direct debit at no charge. This allows you to pay from your checking or savings without a check. You can also schedule future payments.
Although a service fee will be charged, you can pay by credit card. Cards accepted include Visa, MasterCard, American Express and Discover. You can use credit cards online or pay over the phone. The Iowa Department of Revenue's toll-free phone number for credit card payments is ​1-800-2pay tax​ (​800-272-9829​).
Mailing a check or money order is an option. It should be mailed with Form IA 1040V. This payment voucher must be made out to Iowa Department of Revenue. You'll need to write the type of tax being paid on the money order or check. The mailing address is Iowa Department of Revenue P.O. Box 9187 Des Moines, IA 50306-9187. Do not send cash through the mail.
If you don't have a bank account or credit card, another option is paying with cash at a MoneyGram location.
Iowa doesn't have a payment option plan if you are unable to pay your taxes. They allow you to pay what you can when you file. Then you will be billed for the rest. It is beneficial to pay as much as you can by the deadline. This is because you will have a penalty and/or interest due on the balance when you are billed. The interest accrues on the first of each month until the taxes are paid in full.
Where Can I Check My Iowa Refund Status?
Once you have filed, the time frame for receiving a refund is ​30 days​. Some delays can occur if you mail a paper return or don't choose direct deposit. If you have errors on your return or have missing documentation, that can also slow down a return.
If you want to check on a tax refund, go to "Where's My Refund" on the Iowa Department of Revenue website. Make sure you have your Social Security number, tax year and refund amount available. Once you enter that information, the status of your refund will be provided. Information on "Where's My Refund" is updated in real time.
Another option for checking on a refund is to call over the phone. To reach Taxpayer Services call ​515-281-3114​ or you can call toll-free at ​800-367-3388​. The Taxpayer Services will have the same information that you can find on "Where's My Refund". Unfortunately, they cannot provide any information beyond that.
When you check on "Where's My Refund," and it says that your check has been issued, wait an appropriate time to receive it if you aren't doing direct deposit. If you don't receive the check in a timely manner (​14 days​ minimum), then you may want to submit an Affidavit for Issuance. Use the same form if you lost your refund check.
What About Iowa State Taxes if Self-employed?
Iowa does not have a separate tax rate for self-employed individuals. However, the IRS does have a ​15.3 percent ​tax rate for Medicare and Social Security tax on the self-employed.
What About Iowa State Taxes if You're a Business?
Corporate taxes are also graduated. The corporate taxes go from ​5.5 to 9.8 percent​. Although C-corporations must pay income taxes, some businesses do not.
For instance, S-corporations, sole-proprietorships and partnerships don't file a business income tax return. These are pass-through entities. The members and owners of these entities file on their individual returns.
Rates and dates in this article are correct as of publication. But check for any changes with the Iowa Department of Revenue before you file.
References
Writer Bio
Anne attended University of Akron and went on to have a career in television sales. Working as a commercial property and casualty insurance agent for nine years allowed her to learn about different businesses' needs. She has also owned an advertising agency where she created marketing capaigns for various clients. Anne has written for several publications. She currently resides in Charleston, SC.