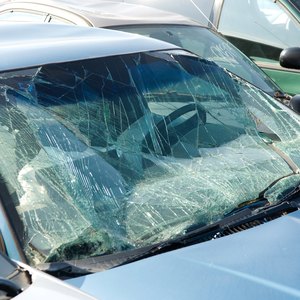 •••
Jupiterimages/Photos.com/Getty Images
A rock hit your windshield, a crook broke your window -- whatever the case, you have a broken car window. Now you're wondering: "Do I fix it myself or call my insurance agency?" One thing you may be worried about is that it will count against your policy, meaning higher rates in the future. Fortunately, auto glass damage usually doesn't count against your policy.
When You're Covered
Before you have any repairs done, contact your insurance agency, which may have policies on how your glass can be fixed. You don't want to end up having to pay out of pocket if you don't have to pay. Typically, you must have comprehensive or glass coverage for your broken car windows or windshields to be covered by insurance. This may come with a deductible. If the cost of the repair is less than your deductible, it might not make sense to fill out a claim.
When Glass Breaks
Filling out a claim for glass replacement or repair in a noncollision case typically will not count against you. In fact, many insurance agencies allow you to fill out a "glass-only claim." Check with your agent or insurance company to find out what its specific policy is.
References
Writer Bio
Specializing in food and business, Melissa Haskin is a Oregon writer who received a Bachelor of Science in economics with an emphasis in business from Oregon State University. She completed graduate work in journalism at the University of Oregon and has contributed to publications such as "The Register-Guard," "Oregon Quarterly" and "Eugene Magazine."