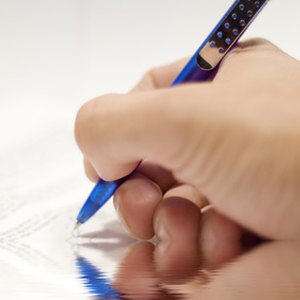 •••
series object on white: isolated - Signature image by Aleksandr Ugorenkov from Fotolia.com
Washington State has its own set of rules and regulations when it comes to filing a deed of trust for property. If you are buying a property or deeding over a property you own to someone else, then in order to make it legal and have the deed recorded in the public records, you must file the deed of trust form with the County Clerk's office in the county where the property is located.
Obtain Deed of Trust Form
You'll need a blank copy of the Washington state deed of trust form. Each state has slightly different forms, so make sure you are using the Washington state form. You can visit the Washington State Bar Association's website and search for this form to download and print it. You can also get a copy of this form from the County Clerk's office.
Completing Deed of Trust Form
Complete the deed of trust, which follows a fill-in-the-blank format. Go through the form and fill in the missing blanks with the information that is specific to your property. Do not sign the form or fill in the area reserved for the notary.
Having Deed of Trust Notarized
Sign the deed of trust form in the presence of a notary. You'll have to provide your identification to the notary with a federally issued photo ID such as a Washington driver's license or military ID card. Once you sign the deed in front of the notary, the notary will then notarize the form.
Filing the Deed of Trust
Locate the County Clerk's Office for the county where the deeded property is located. You can locate the office online or in the government pages (blue pages) of your local phone book. Call to confirm the mailing address for deeds of trust and either send the deed in the mail or go to the County Clerk's office to file the deed of trust in person.
If you decide to mail in the deed of trust, be sure to make a copy of the deed before you mail it. You may want to mail the deed of trust using a tracking shipment method, such as certified or registered mail, or using a delivery service that provides delivery confirmation. The County Clerk's office may charge a filing fee, so check with the County Clerk to see what the filing fee is and what forms of payment they accept in person and via mail.
References
Writer Bio
Kristie Lorette started writing professionally in 1996. She earned her Bachelor of Science degree in marketing and multinational business from Florida State University and a Master of Business Administration from Nova Southeastern University. Her work has appeared online at Bill Savings, Money Smart Life and Mortgage Loan.