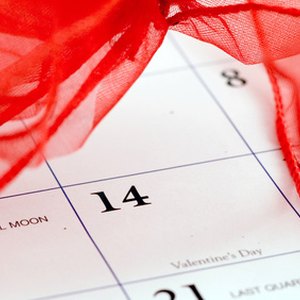 •••
calendar with bow image by Photoeyes from Fotolia.com
Although the Federal Housing Administration offers more flexibility than conventional loans when it comes to underwriting criteria, the government agency imposes certain seasoning requirements for insuring mortgages. FHA's seasoning rules govern purchase and refinance transactions. They involve the borrower's funds to close, the time frame for properties on the market and the the amount of time a borrower has made payments on the FHA loan.
On Funds
FHA requires borrowers to contribute a minimum 3.5 percent down payment, plus closing costs at settlement. The money must be their own, sourced and seasoned, with the exception of gift funds. The amount of seasoning required depends on the source of funds. For instance, money held in a lending institution must be seasoned three months. The borrower demonstrates this by providing the last two monthly statements for the account. For funds in stocks and bonds, the stockbroker or financial institution must provide the borrower's most recent monthly or quarterly statement for the value of the accounts. Gifts funds provided to the borrowers by an uninterested third party do not require seasoning in the borrower's account. Any increase of funds in the borrower's bank account that exceeds 2 percent of the sales price or appears excessive for the borrower's history of savings, must be seasoned for two months or cannot be used toward the transaction.
On Listed Properties
"In an effort to stabilize home values and improve conditions in communities where foreclosure activity is high," the Department of Housing and Urban Development temporarily lifted a rule which prohibited insuring a mortgage on a home owned by the seller less than 90 days, according to the press release. The waiver took effect on Feb. 1, 2010 and was to be effective for one year unless FHA were to extend or withdraw the program due to market changes. FHA's 90-day seasoning rule was meant to protect borrowers against predatory "flipping" practices, wherein sellers buy properties at a low price, then resell the property shortly thereafter at an inflated price (more than 20 percent of acquisition price) to an unsuspecting buyer. The new seasoning rule allows borrowers to purchase bank-owned, HUD-owned, investor or privately-owned properties as soon as they come on the market, in the hope that homes sell within 30 days, stabilizing real estate prices and revitalizing neighborhoods and communities, according to HUD.
On Refinances
FHA offers three refinance options: streamline, rate and term, and cash-out. At the time of application for a streamlined transaction--which requires less qualifying documentation and underwriting than the other refinances--a borrower must have made at least six payments on the FHA-insured loan being refinanced. For loans seasoned less than one year, all payments must have been made within the month due. For those seasoned longer than one year, no more than one 30-day late payment is allowed, according to the FHA Handbook. On rate and term (no cash-out) refinances, a borrower may refinance a non-FHA-insured (conventional) loan with less than 12 months seasoning, however, FHA will take into consideration the borrower's original acquisition cost. Cash-out transactions have more strict seasoning rules, requiring a minimum of 12 months of on-time payments, according to the FHA Handbook.
References
Writer Bio
Karina C. Hernandez is a real estate agent in San Diego. She has covered housing and personal finance topics for multiple internet channels over the past 10 years. Karina has a B.A. in English from UCLA and has written for eHow, sfGate, the nest, Quicken, TurboTax, RE/Max, Zacks and Opposing Views.