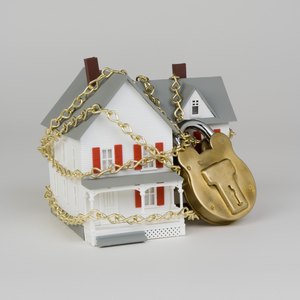 •••
Jupiterimages/Comstock/Getty Images
The recent turmoil in the mortgage industry has made both purchasing and selling a home more difficult. Aspiring homeowners now find it more challenging to qualify for traditional financing. The decrease in qualified borrowers has meant that more homes remain unsold for longer periods of time. These changes have wrought an increase in the use of alternative financing methods such as owner financing and lease-purchase agreements. However, owner-financed homes, like those purchased with traditional bank financing, are at risk of default if the purchaser fails to make his mortgage payments. In such cases, eviction is typically necessary, but may prove challenging.
Draw up loan papers that include the right to evict and foreclose (or reclaim ownership of the property). The best way to regain control of your home in an owner-financing situation, if the purchaser fails to make payments, is to give yourself a legal right to do so from the very start of the loan. This right will vary from state to state. Your attorney can confirm your state's laws and, if legally acceptable, ensure that your loan documents state your right to evict and foreclosure before the purchaser closes on the home.
Contact your lawyer when the purchaser falls behind in payments. Have your attorney carefully review with you the loan documents, particularly the deed of trust and the promissory note. It may be necessary to complete a title search to be sure that your lien on the property is in first place and the borrower has not taken out other financing. If your lien is in first place, your attorney can advise you on your state's laws regarding foreclosure matters such as: how much time must elapse or how many payments must be missed before you can begin the eviction and foreclosure process and whether you can evict the borrower and attempt to resell the property without a court order — a proceeding known as a non-judicial foreclosure.
Try to get the property back via a deed-in-lieu of foreclosure. This means that the purchaser essentially returns the property to you, and in exchange you release him from all mortgage payments. Your attorney can advise you on whether this is a viable option in your state and for your circumstances.
Follow the judicial foreclosure procedures for your state. If all else fails, these court-ordered proceedings will allow you to legally remove the purchaser from your home so that you can regain its possession. You lawyer will need to oversee the legal matters. In most cases, you should be able to resell the property to another party to repay the outstanding debt on the home.
References
Writer Bio
Rene Dale is a writer with more than a decade of financial services experience. She has worked in personal finance, mortgage lending, credit repair and financial analysis. Dale holds a Bachelor of Science in finance from the University of Tampa.