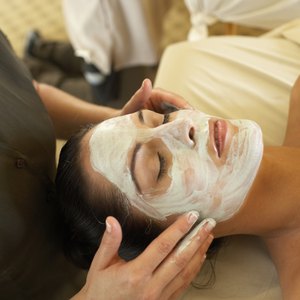 •••
Andrea Chu/Photodisc/Getty Images
Becoming an esthetician, also known as a skin care specialist, can lead you to a dynamic and rewarding career. Some estheticians work for established salons or spas, while others use their skills to establish their own business. Becoming an esthetician requires training and study. Grants are available to help pay for schooling.
Educational Associations
Institutions that monitor and support educational institutions in the beauty industry can be a tremendous resource for career advice as well as financial assistance. The American Association of Cosmetology Schools offers several grants to students looking to become cosmetologists and attend an AACS accredited school. Cosmetology includes the study of the skin as well as hair and nails. While cosmetology and esthetician programs differ, it is often a career choice for those looking to work in the beauty industry and offer a wider array of services to their clients.
Professional Associations
Organizations that advocate for beauty industry professionals can be another point of reference for career guidance as well as scholarship aid. The National Coalition of Estheticians, Manufacturers/Distributors and Associations, based in Ridgewood, New Jersey, awards a $1,000 scholarship to students training to become estheticians. Eligible applicants must be halfway through their studies and enrolled in an esthetician-only program. Students must maintain an 80 percent average with an attendance rate of 80 percent.
Beauty School Financial Aid Department
Some beauty schools offer their own financial incentives through their financial aid departments, from loans to grants and scholarships. The Empire Education Group based in Pottsville, Pennsylvania, offers training to beauty professionals through its schools, which operate in 21 states. Its website directs students to scholarships available through Empire as well as third-party scholarship opportunities and federal aid programs.
Federal Aid Programs
Beauty schools approved by the U.S. Department of Education can offer greater financial assistance for students. For example, students who do not already hold a bachelor's degree or other professional degree can apply for a Federal Pell Grant, which for the 2011-12 academic year is a $5,550 award. Other federal programs include subsidized or unsubsidized Stafford loans. Some schools are also approved for Veteran Education Benefits, which can be a resource for retired military personnel and eligible dependents. Contact the school directly to see whether they have been approved by either the U.S. Department of Education or for Veterans Education Benefits.
References
Writer Bio
Beth Greene was first published in the "Journal Irish Historical Studies" in 2000. She holds a Bachelor of Arts from the National University of Ireland, Galway, a Master of Philosophy in medieval history from Trinity College, Dublin and a Master of Library and Information Science from the University of Wisconsin.