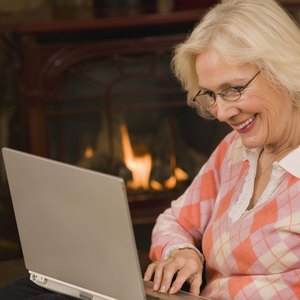 •••
Jupiterimages/Comstock/Getty Images
Educational grants and scholarships for women over 55 years of age are more important than ever. "Adult students now comprise a large portion of the enrollment at most colleges and universities, with a majority of these non-traditional students being mature women," notes Charlotte W. Newcombe Foundation, which grants scholarships to mature women students, on its website newcombefoundation.org. These women may be reluctant to take advantage of traditional financial aid because it comes in the form of loans, not grants or scholarships.
Government Grants
The U.S. Department of Education's Federal student aid programs offer some grants, such as the Federal Pell Grant and the Federal Supplemental Educational Opportunity Grant, that do not require payback. This may encourage women over 55 to apply, because they tend to have lower incomes and family-related financial responsibilities and might not be able to count on having funds to pay back loans. Anyone interested in applying for Federal grants should read the informative "Funding Education Beyond High School: The Guide to Federal Student Aid."
Women's Grants and Scholarships
The American Association of University Women (AAUW) Educational Foundation's Career Development Grants are for women with bachelor's degrees who are trying to advance their careers or change careers, and for mature women re-entering the work force. The AAUW specifies that: "Special consideration is given to women of color and women pursuing their first advanced degree or credentials in nontraditional fields."
The Soroptomist Club funds the Women's Opportunity Awards, which are monetary grants for women in disadvantaged situations, including women over 55. They help women of all ages who are re-entering the workforce obtain skills, education and training. To receive these competitive educational grants, applicants must be financially struggling or responsible for supporting their household.
The Women's Institute Scholarship Program for Women 50 and Older is sponsored by the Business and Professional Women's Education Foundation. To receive funding, women who show financial need must first be accepted into an educational or vocational program.
The AARP Foundation Women's Scholarship Program is designed for women over 40 who are returning to school or work after an extended absence, who are in jobs with insufficient pay or who are responsible for grandchildren.
The Alma Baron Second Chance Scholarship was created by a woman who returned to school after her children were grown. It is designed to help women older than 45 continue their education at the University of Wisconsin-Madison.
The Charlotte W. Newcombe Foundation established the Newcombe Scholarships for Mature Women Students. These scholarships are given to returning-to-school or second-career women who are unable to qualify for financial aid. It allows women to avoid excessive reliance on loans as they manage the costs of tuition, housing and caring for family members. The foundation provides scholarship funds to educational institutions that welcome and support mature women students.
Jeannette Rankin Women's Scholarship Fund honors the first woman elected to the United States Congress. Rankin was a proponent of women's rights, and left part of her estate to create a foundation, the stated purpose of which is: "to help mature, unemployed women workers" and mature, low-income women who are returning to school. "This fund provides opportunities for women to succeed through education, begin careers and break the cycle of poverty."
Talbots Women's Scholarship Fund, set up by Talbots Charitable Foundation, offers scholarships for U.S. and Canadian women looking to pursue a college or vocational education later in life. Awards are based on need and previous achievements for women who earned their high school diploma or GED at least 10 years ago.
Free Financing Guide for Women
An invaluable free resource is the "AARP Foundation Back-to-School Financing Guide: A Financial Aid Guide Book for Midlife and Older Women Seeking Education and Training."
References
Resources
Writer Bio
Maura Wolf's published online articles focus on women, children, parenting, non-traditional families, companion animals and mental health. A licensed psychotherapist since 2000, Wolf counsels individuals struggling with depression, anxiety, body image, parenting, aging and LGBTQ issues. Wolf has two Master of Arts degrees: in English, from San Francisco State University and in clinical psychology, from New College.