When Don't You Have to File Taxes?
by Tara Thomas ; Updated March 15, 2018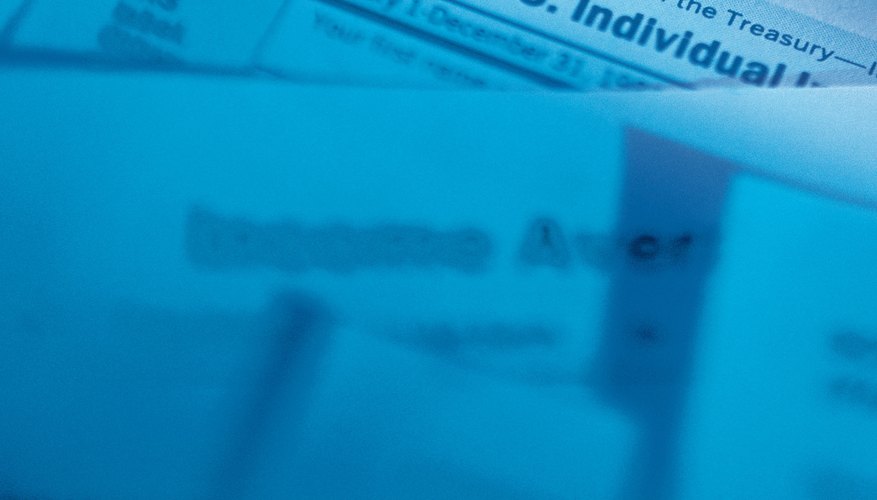 Ben Franklin is often attributed with saying "...in this world nothing can be said to be certain, except death and taxes." But the situation isn't so dire; not everyone has to file income taxes every year. Depending on your age, filing status, dependency status and amount of income earned, you may not be required to file taxes with the IRS. However, even if you don't have to file, it is often a good idea to do so as you may be eligible for refundable tax credits that can result in Uncle Sam paying you at tax time.
IRS Minimum Income Filing Requirements
IRS minimum income requirements are one of the determining factors in whether or not you must file taxes for any given year. These various income levels are released by the IRS each year before tax season, and generally account for inflation. Everyone can claim a standard deduction for themselves, plus one exemption, if they are not claimed as a dependent on anyone else's tax return. Income that is less than the amount of your standard deduction plus one exemption is not taxable. When you do not exceed this amount, and earn below the minimum income requirements, you are not required to file taxes.
These minimum income amounts vary by age, type of income as well as filing status, and can get a little complex. For instance, a married filing separately taxpayer of any age has to earn only $4,050 before having to file taxes, while couples who are married filing jointly, and both are age 65 or older, can earn up to $23,300 before they must file.
Keep in mind that if this income is from self-employment, the minimum income before you are required to file taxes is only $400, regardless of age or filing status. A quick stop by the IRS' website will provide a list of all minimum income requirements for the various filing statuses. Fortunately, the IRS has an interactive tax assistant that can help you determine if you're required to file or if you can expect a refund.
Reasons to File Even if Not Required
While you can definitely save the hassle of having to file taxes if your income is less than the minimum income requirements, there are still reasons why you may want to file. The IRS offers numerous tax credits that you might be eligible for – even if you did not have to pay taxes. A number of these tax credits are refundable, meaning if the amount of the credit exceeds the amount you owe in taxes, you could receive a refund. The earned income tax credit, or EITC, and the additional child tax credit, are two such refundable tax credits that you may be eligible for if you've earned little-to-no income.
Does My Dependent Child Have to File Taxes?
If the child is earning wages or has dividends from investments, then the IRS requires her to report this on her own tax return, even if you claim the child as a dependent on your return. For purposes of the IRS, dependents can be children or adults, and there is no age minimum or limit to when one is required to pay taxes. Depending upon the source of the income – earned or unearned – dependents must file their own taxes based on a different set of IRS rules.
Each person can be claimed as an exemption on only one tax return per year, so dependents are not able to claim an exemption for themselves, and are therefore subject to different income minimum amounts and rules. It's a good idea to consult with a qualified tax professional or visit the IRS' website for more information on filing taxes for dependents.
Photo Credits
Comstock/Comstock/Getty Images
Cite this Article
Choose Citation Style
Thomas, Tara. "When Don't You Have to File Taxes?" Pocket Sense, https://pocketsense.com/dont-file-taxes-7974972.html. 15 March 2018.
Thomas, Tara. (2018, March 15). When Don't You Have to File Taxes? Pocket Sense. Retrieved from https://pocketsense.com/dont-file-taxes-7974972.html
Thomas, Tara. "When Don't You Have to File Taxes?" last modified March 15, 2018. https://pocketsense.com/dont-file-taxes-7974972.html
Note: Depending on which text editor you're pasting into, you might have to add the italics to the site name.