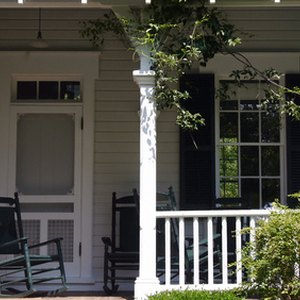 •••
home sweet home image by David Dorner from Fotolia.com
Buying a home in a private sale is not recommend unless the buyer is well versed in real estate law and has experience in purchasing property. There are a number of considerations that may impact the buyer. Always have the home appraised by a home inspector. They will give an objective analysis of the value of the property and look for possible repairs or hidden damage to the home.
Find a property. Look for homes that are FSBO (for sale by owner.) There are several directories on the Internet that list private homes for sale (see Resources). Visit prospective homes. Narrow the homes to only your top choices.
Arrange financing. Contact a mortgage broker, bank, credit union or financial institution to arrange financing on the property. Make sure you can afford the property.
Hire a building inspector to inspect the prospective home. This is essential for anyone who is not a seasoned real estate investor or for someone who is not in the building trade. An inspector will outline any problems the home has after doing a thorough inspection of the property. His job is to provide a fair, unbiased evaluation of the property and its value.
Make an offer in writing, outlining the terms of the offer. An offer basically indicates how much the buyer is willing to pay and when the seller can expect payment.
Contact a real estate lawyer. This step is not essential, but a real estate lawyer may be able to provide advice or find clauses not contained in most standard real estate contracts.
Arrange sale terms with an escrow agent. Draw up a contract for the purchase of the home (see Resources). An escrow agent insures the buyer's finances are secure until the deed/title is transferred over and all the terms of the agreement are met, including promised repairs and renovations. Arrange for the financial institution to release funds to the escrow agent.
Close the deal. Sign the sales contract and wait for the title transfer. Depending on the terms of the agreement, the seller may request a deposit from the buyer before closing the deal. The deposit demonstrates a firm commitment to buy the property. In exchange, the seller takes the house off of the market. This is often the case while the buyer waits for financing approval from a financial institution.
References
Writer Bio
Erick Kristian began writing professionally in 2008. He has a strong background in business and extensive experience writing fiction and articles related to spirituality and self improvement which are published on growingeveryday.com. Kristian has written several screenplays, produced numerous films, published books and written numerous articles on a variety of subjects. He holds a Bachelor of Business Administration from Schulich School of Business.