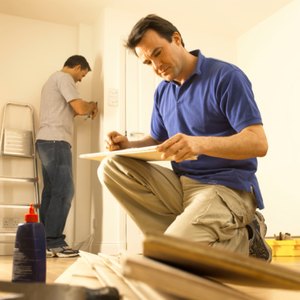 •••
BananaStock/BananaStock/Getty Images
A home refinance can result in lower interest and lower payments on your home. Before approving your refinance, most mortgage companies require an appraisal. The appraisal will determine the current value of the home, including any improvements you have made since you purchased it. A finished basement is one such improvement that may affect the appraisal on a refinance.
Gross Living Area
According to the U.S. Department of Housing and Urban Development (HUD), the gross living area of a house is the total finished, habitable residential space above ground level. The HUD Handbook for appraisals on single-family homes explains that this area is obtained by measuring the perimeter of the structure. Finished basements and unfinished attics typically do not count as gross living area. In rare cases, a finished basement that has a bedroom may qualify if it meets the requirements for habitable space.
Habitable Space
For a basement bedroom to count as habitable space, according to HUD, it must meet certain requirements. The windowsill can be no higher than 44 inches from the floor. The window should be at ground level, but an appraiser may make an exception if compensatory factors exist. The window must have a clear opening of at least 24 inches wide and 36 inches high, and the bedroom must possess adequate lighting and ventilation. Without these requirements, an appraiser cannot include a basement in the habitable space or the gross living area.
ANSI Standards
The American National Standards Institute (ANSI) developed a standard for calculating square footage that appraisers can follow if they so choose. The ANSI standard differentiates between square footage above ground level, called above grade, and below ground level, called below grade. For example, a house with a finished basement may be described, per the ANSI standard, as having 1,540 square feet of above-grade finished square feet and 968 of below-grade finished square feet.
Value of a Finished Basement
Despite the fact that a finished basement does not figure in a home's square footage for a refinance, it can still add value to the appraisal. In their 2010-'11 Cost vs. Value report, "Remodeling" magazine estimated that a basement remodel would cost about $64,500 but would recoup around 70 percent of that cost, for a value increase of about $45,000. This increase can be helpful for a refinance, since it will effectively increase not only the value of the home, but your equity as well.