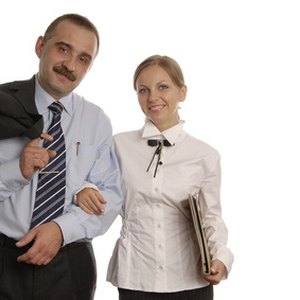 •••
smiling office workers image by Sergii Shalimov from Fotolia.com
Displaced workers, workers who have lost their jobs through no fault of their own, are increasing in numbers. Colleges, joining with state and federal governments, have developed plans to help assist the workers. Education and retraining programs, paid for by grants, are being used to equip displaced workers with new skills that will assist them in finding a new job.
No Worker Left Behind
The state of Michigan passed legislation and developed a No Worker Left Behind program. The program provides grant money to prepare thousands of workers for new jobs through education and training. No Worker Left Behind, while guaranteeing the completion of the program to those currently enrolled, is now limiting the number of applications it will accept. To qualify, you must have received a layoff or termination notice or have a family income of less than $40,000. You must be a high school graduate, but you cannot be enrolled in a full-time program in college.
Employment Gap
Individual colleges, such as DeVry, offer employment gap scholarships which, as with grants, do not have to be paid back. The Employment Gap Scholarship was developed to help displaced workers. This scholarship is available for individuals who meet the enrollment requirements of the college and plan to attend college full-time.
Trade Adjustment Assistance
The federal government has provided money for training through the Trade Adjustment Assistance program for workers whose job loss is trade related. Local states disperse the money after workers are identified by the employer, union or three individuals from the same workplace submitting a petition. Application must be within one year of the layoff.
U.S. Department of Education
In 2009, Educational Secretary Duncan announced $11.25 million in grant money is available for displaced workers in 20 states. It will be distributed during a three-year period. Displaced workers are being placed in programs to help fill the top 10 most difficult jobs for employers to fill in 2009. Check GovMonitors in Resources to see if your state is taking part in the program.
References
Resources
Writer Bio
Joan Collins began writing in 2008. Specializing in health, marriage, crafts and money, her articles appear on eHow. Collins earned a Bachelor of Arts in education from the University of Northern Colorado and a Master of Arts in instructional technology from American InterContinental University.