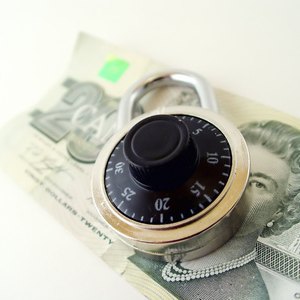 •••
is your money safe? image by Melking from Fotolia.com
Safes typically have a single dial that interacts with parallel disks or cams inside the lock. Turning the dial alternately clockwise and counterclockwise a certain number of times releases a latch, opening the safe. The combination code of the safe lock indicates the amount you need to rotate each turn.
Turn the dial at least three full revolutions clockwise. Stop turning when the first number of the combination is aligned with the hatch mark on the lock.
Turn the dial counterclockwise until it has made one full revolution, passing the first number in the code. On the second revolution, stop turning when the second number of the code is aligned with the hatch mark on the lock.
Turn the dial clockwise again until you reach the third number in the combination code. Do not pass the number as you did in Step 2. You should hear a clicking sound indicating that the lock has been released.
Pull on the safe door handle. If the door does not open, turn the dial clockwise three times and repeat Steps 1 through 3. Make sure that you reach each number or go a little past it on each turn.
References
Writer Bio
Karl Wallulis has been writing since 2010. He has written for the Guide to Online Schools website, covering academic and professional topics for young adults looking at higher-education opportunities. Wallulis holds a Bachelor of Arts in psychology from Whitman College.