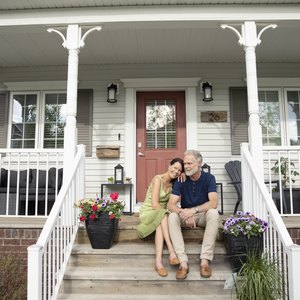 •••
Hero Images/Hero Images/GettyImages
A home is one of the largest investments that many of us make in our lifetime. Homeowners insurance helps protect the money you invest in your home, but many homeowners make the mistake of basing their coverage on the market value of their home. In some cases, the cost of rebuilding the house after a fire or other disaster is more than the market value. The Insurance Information Institute recommends using your actual dwelling cost as a guide when buying homeowners coverage to avoid unnecessary expenses if disaster strikes.
Homeowners Insurance Coverage
The largest expense covered by homeowners insurance is complete replacement of a dwelling. Repairs to a home and replacement for items within the home are also part of homeowners insurance coverage. Most standard policies provide four categories of coverage:
Coverage for a home's structure as well as additional structures like garages and storage sheds.
Coverage for personal items stored both in the home and elsewhere.
Coverage for liability in the case of lawsuits brought against the homeowner for injury or property damage that occurs on the property.
Coverage for temporary additional living expenses such as hotel and meal expenses, if the home must be vacated due to a covered disaster.
Standard policies cover many types of natural disasters, including hurricanes, storms and fires as well as losses caused by other events like theft, accidents, terrorism and civil disorder. It's important to know that a standard policy won't cover damage caused by earthquakes or floods. Homeowners who live in areas that are subject to these events need to buy additional coverage.
Coverage for Personal Possessions
Personal items like furniture, clothing, jewelry and art are covered for theft or destruction by standard homeowners insurance policies. The amount of coverage typically is capped at 50 to 70 percent of the home's replacement coverage. This may not be enough to replace all of a homeowner's items, especially valuable jewelry and art pieces. Additional coverage in the form of an endorsement or floater for personal property should be purchased for expensive items that can't be replaced with standard coverage.
Insurance experts recommend conducting a home inventory and noting the current replacement value of personal items. Include appliances, electronics, indoor and outdoor furniture, silverware, kitchen items and clothing. It's a good idea to store the inventory in another location so it won't be destroyed in a disaster.
How Is a Homeowner's Settlement Calculated?
The amount of money a homeowner receives as settlement for damage incurred during an insured event depends on the type of coverage. If the coverage is for the replacement cost, payment is enough to rebuild or repair a home to its previous state using similar materials. The original cost of the home and depreciation are not considered. For the loss of personal items, payment is made to replace the item with a similar new item without regard to the original price of the insured item or the amount of depreciation in value over time. Insurance companies usually suggest that a home be insured for 100 percent of its replacement cost.
When a home and its contents are insured for the actual cash value, the settlement is for the cost to replace the home and possessions minus a depreciation deduction for age, wear and tear and other factors determined by the insurer. Basically, it's the amount the property could be sold for in its current condition. This means the homeowner will have to spend money to cover the full cost of replacement. A home is referred to as underinsured in this case.
Providing an Example
For example, if a home's roof is damaged in a storm and must be replaced, the entire cost will be paid if it's insured with replacement value coverage. The age of the roof does not factor into the settlement amount. If the coverage was for the actual cash value, the settlement would include depreciation and would be less, depending on the condition of the roof. The homeowner would need to make up the difference in cost when replacing the roof.
Calculating Your Home's Replacement Value
There are a few different ways to calculate the proper amount of homeowners insurance coverage to replace your home. You can find out about construction wages and the cost of materials in your area to determine the actual amount per square foot that you will need to pay to replace your home with a similar structure, then multiply the amount by your home's number of square feet. The value of the lot where your home is built should not enter into the calculation.
Once you've calculated the cost to replace your home's structure, take into account additional costs for flooring, appliances, cabinets, fixtures, lighting and the exterior finish. Don't forget special features like fireplaces or kitchen upgrades. A home that has been renovated or had an addition built may turn out to be uninsured. It's important that the homeowners insurance be updated whenever the replacement cost of the home significantly changes.
Homeowner Replacement Cost Estimator
Another way to determine replacement cost is with an online estimator. There are several online calculators that provide the construction data needed to determine a home's replacement value. For example, DwellingCost.com takes basic information about a home and its location and provides a detailed report about the replacement value. A free 15-day trial is available and after that the subscription cost is $8 per month. Another online tool, Craftsman's National Appraisal Estimator, provides building cost appraisals for single-family dwellings. An unlimited number of appraisal reports can be generated for $14.99 per month.
Getting a Professional Estimate
Many homeowners decide to hire a professional home inspector to estimate the cost of replacing their home instead of trying to do the calculations themselves. Websites like HomeAdvisor connect homeowners with local contractors willing to provide replacement cost estimates. You can contact the American Society of Home Inspectors to find certified home inspectors in your area. A local real estate agent is also a good source for the names of inspectors.
In some cases, an insurance company will require a home inspection before a policy is issued, such as for an older home that has unique construction features. Insurance companies typically hire licensed independent appraisers who visit the home within 30 days of the starting date for coverage. This type of inspection can benefit the homeowner when it results in a more accurate replacement valuation.
It can also mean additional costs for the homeowner when the inspector identifies hazards that could result in loss, such as a falling chimney or roof in need of repair.
When You File a Homeowners Claim
If you're in the unfortunate situation of having to file a homeowners insurance claim after a disaster, it's important to contact your insurance agent as soon as possible to determine what's covered. Your home may be visited by an insurance adjustor, who will assess the damage to your home and possessions. This is when having an inventory of your personal items pays off.
Use it to make a list of items that have been damaged or destroyed. You should also conduct a home walk-through before the adjustor arrives and note any structural damage to your home and other buildings on the property. Reporting damages quickly is the best way to help efficiently settle your claim.
References
Writer Bio
Catie Watson spent three decades in the corporate world before becoming a freelance writer. She has an English degree from UC Berkeley and specializes in topics related to personal finance, careers and business.