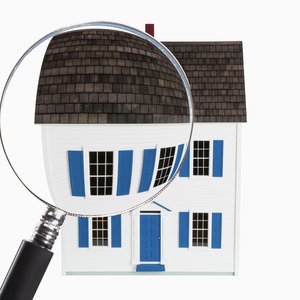 •••
Jupiterimages/Comstock/Getty Images
Understanding the market price of a piece of property is important if you are buying, selling or investing. You will also want to know the value of your real estate when you are applying for propety insurance or looking to refinance your mortgage. While you might have your own idea of what your property is worth, the market really drives the value of your home. You must consider factors such as location, size, condition, amenities and proximity to services. Determine the real estate market price by talking to professionals, getting an appraisal and researching similar properties on the market.
Comparable Market Analysis
Ask a real estate agent to prepare a comparable market analysis (CMA). You do not have to be a client; most real estate agents will do this in the hopes of getting your business when you do decide to buy or sell.
Look for the prices of homes or property similar to yours that recently sold. The market analysis will compare homes on the market that are roughly the same size and in the same condition as yours.
Talk to the real estate agent about the local market conditions. A professional agent who specializes in your area will be able to tell you if prices have been climbing, falling or remaining the same. She can also tell you how your home would measure up in value compared to those on the CMA.
Property Appraisal
Hire a property appraiser to inspect your home. Realtor.com estimates that this will cost you a couple hundred of dollars or more, depending on the size and complexity of your home.
Make sure your appraiser has local knowledge. While the personal inspection of your home will drive most of the appraiser's calculations, knowing the local market will ensure you get an accurate opinion of what your real estate is worth.
Provide documentation for any recent repairs or upgrades. If you have a new roof, make sure the appraiser can verify that through receipts or contracts.
Review the appraiser's report. This will provide you with details on what the property is worth and how the appraiser came to a final conclusion on its value.
Conducting Research
Visit any of the online websites that provide free real estate estimates. You can look at Zillow, iOwn or Trulia to get a snapshot of what your home or other homes in a particular neighborhood may be worth. These estimates are based on recent market activity.
Read real estate listings. You can compare your property to what is on the current market by reading listings and going to open houses. Remember, a listing price is not necessarily the same as the property value. The ultimate purchase price might be higher or lower than what the property is actually worth.
Consider subjective criteria. What you find on your appraisal report and in your CMA will dictate the bottom line, but if you are selling your home or buying a home, other things can make a difference in the property value. For example, a move-in ready home would be more valuable to a buyer than a property that comes with a higher value but requires a lot of work.
References
Writer Bio
Cari Oleskewicz is a writer and blogger who has contributed to online and print publications including "The Washington Post," "Italian Cooking and Living," "Sasee Magazine" and Pork and Gin. She is based in Tampa, Florida and holds a Bachelor of Arts in communications and journalism from Marist College.