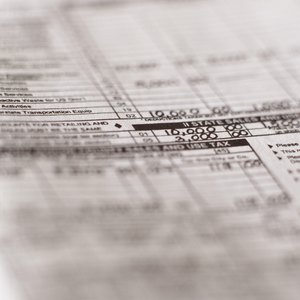 •••
Photodisc/Photodisc/Getty Images
Accrued shareholder salary is an amount of compensation that a company has been paying a shareholder over a period of time, but which, according to Net MBA, the company hasn't officially recorded. Accrued shareholder salaries are a type of adjusting entry in the company's ledger, which means the accountant totals the amount of salary paid to shareholders at the end of a specific accounting time frame, such as a tax year, fiscal year or financial quarter. To avoid double taxation, corporations can deduct accrued shareholder salaries from their income tax filings.
Identifying and Totaling Shareholder Salaries
Identify each shareholder in the company and the amount of salary each individual earns during the accrual period. Corporations typically complete quarterly and annual income tax paperwork with the Internal Revenue Service, so adjust the company's ledger and total shareholder salary accordingly. Note the specifics of each shareholder's role in the company as well, such as job function and responsibilities, his title and how the company arrives at the salary it pays him.
Total the value of each shareholder's salary, including income, benefits, bonuses, stock options and other forms of compensation. Companies can deduct payments in excess of 2 percent of the total amount paid toward shareholders' medical and accident insurance plans, according to the Internal Revenue Service. On her income tax filings, the shareholder then claims the sum deducted by the corporation as income.
Determine if the shareholder's compensation is unreasonable, which would prevent the company from deducting her salary from its tax filings. Though the IRS doesn't have a firm definition of what compensation level it considers reasonable, it does suggest using training and experience, as well as the salaries paid to similar workers at similar firms, to determine if the shareholder's compensation is reasonable. The IRS recommends using a formula to arrive at a shareholder's total compensation, which would quantify her salary alongside compensation factors such as bonuses, stock awards and options, nonequity incentive plans, adjustments to her pension and any other compensation, according to the Securities and Exchange Commission.
Completing the Company's Tax Forms
Determine and acquire the types of tax forms your corporation needs to file. S corporations, C corporations and limited liability corporations — or LLCs — are the three most common types of corporations, though only S and C corporations need to be concerned with deducting accrued shareholder salary. For quarterly IRS filings, S and C corporations use IRS Form 941; for annual filings, they both use Form 1120, according to the IRS.
Complete the correct tax forms with the information they require. The IRS requires corporations to report wages and all other forms of compensation and any taxes the corporation withheld, as well as tips, sick pay and benefits. The total sum paid to employees and shareholders can be deducted from a company's tax-paying obligations.
File the tax documents promptly. The IRS imposes late penalties and even interest payments if a corporation is late in filing its tax documentation. Double-check all information you prepare, then file the tax paperwork either online or through conventional mail.
References
Writer Bio
Ben Taylor has been writing since 2005 and has had work published by WEKU-FM and West Virginia Public Broadcasting both on air and online. Taylor holds a Master of Arts in English from Eastern Kentucky University and currently teaches composition and ESL there.