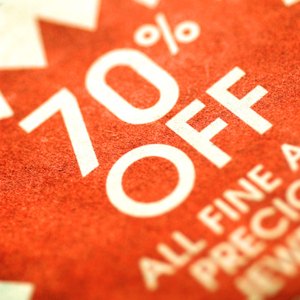 •••
Thinkstock/Comstock/Getty Images
Store closing sales, or going out of business sales, seem like the best place to find deals, as the retailer must price the inventory to get it sold. However, chances are that the inventory has already changed hands — into those of a liquidator that has its own idea of how to run a store-closing sale. Liquidators are companies that go into soon-to-be-defunct stores to liquidate or sell every piece of inventory in the store, down to the shelving and racks. Liquidators are known for marking up inventory only to apply the markdowns just before the sale. Fortunately, there is a way to find a deal despite these practices.
Make a list of the things you plant to look for in the closing store. Not all of the items on your list may be available, but you will have a guideline to follow while in the store. Impulse is a great way to mitigate any deal savings you find within the store.
Research the current price of the items. Liquidators are known for marking up everything in the store, including clearance items, to market prices. Then they take the advertised discount from that price.
Compare prices on every item before placing it in the cart to take home. Know the current prices so that you know if a price is a deal or not before leaving the store. Take along a cell phone that is web enabled. Prior to your trip, find a mobile friendly set of retail sites that you trust and can use for a price comparison.
Peel back labels to see if the new prices are the lowest. Liquidators often place new price stickers over the old in a rush to prepare the store for a sale. You may not be able to buy the item at the lower price, but you can identity an item that is being sold close to full price.
Inspect every piece before leaving the store (this includes trying on clothes). Liquidators and retailers going out of business mix the irregular clothing and other clearance items in with those that would be priced normally.
Haggle for the items you really want. Not every store will comply, but it can't hurt to try. Point out the problems with the item, such as an irregularly closing, damaged or open box, or a sticker underneath the supposed "sale" tag that is much lower.
Go to the sale after the first day. The stores marks down remaining goods until they are sold, so discounts on the first day may be higher than they are on the second, third or seventh day. If you are really committed to certain items, make more than one trip to see if the discounts have reached your preferred deal range.
Store closing sales often do not announce their last day. Many simply close the doors when everything is sold, while others close before all the inventory is gone. Determine how long you will wait for an item to drop to a price you're comfortable with, but keep in mind that as inventory gets low, you may not have another day to purchase.

Make sure everything works before leaving the store and check all warranties. Open boxes if you must to check items. Once the store closes, you may have little recourse in being compensated for a defective item.
Writer Bio
Jonita Davis is freelance writer and marketing consultant. Her work has appeared in various print and online publications, including "The LaPorte County Herald Argus" and Work.com. Davis also authored the book, "Michigan City Marinas," which covers the history of the Michigan City Port Authority. Davis holds a bachelor's degree in English from Purdue University.