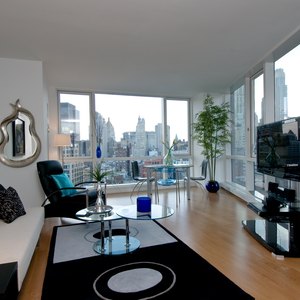 •••
Jupiterimages/Photos.com/Getty Images
Condos provide an attractive option for buyers who are looking for amenities, less maintenance and prime locations. However, buyers must be just as diligent as detached home buyers by conducting a condo inspection prior to agreeing to the purchase of the property. A condo inspection investigates the interior and exterior of the unit to find any problems that have not been disclosed.
Ceiling, Floors, Windows and Walls
The ceiling, floors and walls can indicate deeper issues with a condo. For example, spotting on the ceilings or floor may indicate a problem with the roof or water leaking into the building. Cracked walls can indicate a problem with the foundation. If the floors slope, they may be warped or damaged, indicating that they may need to be replaced and that there may be an underlying problem, such as water damage. Windows or walls that have spots on them may be indicative of mold damage.
Electrical System and HVAC
A home inspector or electrician can check on the electrical system in your unit. A thorough inspection should include checking for working outlets, lights and switches. The electrician should look for scorch marks around breakers and fuses, which indicate loose and sparking wires. The electrician may use an electrical tester to check if all of the outlets work. An illegal or improper electrical system can pose fire hazards which may make a lender not approve the loan until repairs are made. An electrician may also check for system updates and may check ground fault interrupts in the bathroom and kitchen. The HVAC system should be inspected to determine if the heating and cooling system works properly.
Plumbing
Plumbing problems can be expensive. Before finalizing the deal, a condo buyer should make sure that he finds any problems with the plumbing. An inspector checks for leaks around pipes, turns on the sinks and flushes the toilet to determine the water pressure. Areas around the shower may show water damage. The inspector should also check to see if the water heater is up to code.
Kitchens and Bathrooms
Kitchens and bathrooms are commonly the most expensive rooms to renovate, so it is critical to be aware of their condition before finalizing the purchase. Fixtures should be secure and in good condition. No gaps should be in the caulking in the tub and shower area. Kitchen cabinets and drawers should be easy to pull out and in good condition. Appliances should be clean and in good condition.
Exterior
The exterior of the unit can be indicative of the level of maintenance of the unit. Snow and ice should not be on the walkways. Exterior walls should not show cracks or water stains. Adequate lighting should be present. The grounds should also be well-maintained with mowed lawns or manicured landscapes.
Common Areas
Buying a condo establishes a legal relationship between you and the condo board. The board should be maintaining the common areas of the units, including hallways, walkways and lounges. Amenities are an attractive feature to condo living, and recreational areas such as pools and gyms should be maintained to maintain the value of the condo units.
References
Writer Bio
Samantha Kemp is a lawyer for a general practice firm. She has been writing professionally since 2009. Her articles focus on legal issues, personal finance, business and education. Kemp acquired her JD from the University of Arkansas School of Law. She also has degrees in economics and business and teaching.