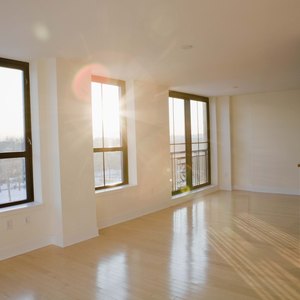 •••
Jupiterimages/Creatas/Getty Images
Condominiums can offer simplified home ownership, especially for first-time buyers and retirees. Shared amenities and property maintenance make condo living relatively easy. Issues arise, however, due to divided owner responsibilities, association rules and the unique financial risks condos can pose. To optimize your condo-living experience and eventually build equity and profit from a future resale, check out the major issues that can make or break a deal before buying.
Rules
Buying a condo is a long-term commitment, so make sure you can live with the condo association's rules. Upon entering into a contract to buy, you can request a copy of the condo documents, known as Covenants, Conditions and Restrictions, or CC&Rs, which outline rules pertaining to pets, parking, common-area use, exterior decor and even smoking. Also, make the review and signing of the CC&Rs a condition for buying the condo so you are not penalized for backing out of the deal if you disagree with any rules. Your purchase contract also must stipulate the time frame for reviewing the CC&Rs, which is typically several days to weeks after contract acceptance.
Finances
The condo association's finances can affect your payment as well as your unit's future marketability. Poor finances, such as low or no reserves and too many owners behind on dues, can cause your condo fees to rise and the property to suffer from deferred maintenance. The association may also need to impose additional fees to cover emergency expenses and capital improvements. Also, many lenders refuse to finance condos in complexes where more than 15 percent of owners are 30 days or more delinquent on dues. A high delinquency rate affects your ability to get a condo loan and future buyers' ability to obtain financing, which hurts condo values in the complex.
Fees
Research the monthly housing costs associated with living in a condo, including your loan payment, property taxes, homeowner's insurance and dues, to determine affordability. Your lender compares your gross income to these expenses when qualifying you, but you may have a more conservative payment in mind. The condo docs specify dues and special assessments. You can contact the county to determine property taxes and special assessments imposed by the local tax authority. Also, contact homeowner insurance providers to get quotes for condo unit insurance.
General Research
Conduct a thorough physical inspection of the condo's interior and any exterior premises you are responsible for, such as patios, balconies, detached garages, car ports or storage space. Although a condo association may cover repair and maintenance of such areas, extensive termite damage, mold, lead or other structural damage may impact the property's desirability, or the price you are willing to pay. Also, investigate whether everyday issues and complaints are handled by the association's governing board, which consists of your neighbors, or a property management company. You will want to know who you will be dealing with and their level of professionalism when issues arise.
References
Writer Bio
Karina C. Hernandez is a real estate agent in San Diego. She has covered housing and personal finance topics for multiple internet channels over the past 10 years. Karina has a B.A. in English from UCLA and has written for eHow, sfGate, the nest, Quicken, TurboTax, RE/Max, Zacks and Opposing Views.