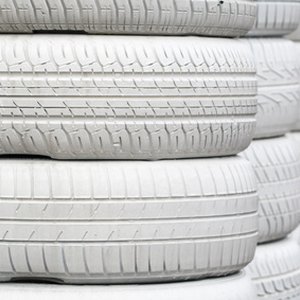 Used rubber tires can be recycled by grinding them into crumb rubber and mixing the recycled matter with asphalt for use on state highways. The Environmental Protection Agency estimates that of the 290 million scrap tires generated every year, 12 million are recycled and used in asphalt, with Arizona utilizing the most rubberized asphalt of any state in the nation.
Liberty Tire Recycling
Through a national network of tire recycling facilities and collection centers, Liberty Tire Recycling reuses more than 110 million tires every year, which amounts to one-third of the scrap tires in the country. Liberty has 20 collection and remediation facilities in the United States, where customers can either bring scrap tires or where Liberty collects tires from dumps, customer sites or other locations. Liberty's customers include tire retailers, automotive shops and military facilities. The company's 15 production facilities are responsible for recycling scrap tires through a process that requires shredding the tires into two-inch pieces. Those pieces are further broken down by either using a machine or by freezing the pieces with liquid nitrogen, then shattering the rubber strips into chips of varying sizes. Any remaining steel is removed with magnets and pieces of fiber are separated with air classifiers.
Global Tire Recycling
Global Tire Recycling (GTR) recycles over 2 million tires per year, which results in over 16,000 tons of crumb rubber--including crumb rubber in custom sizes specified by the customer.
Customers can deliver scrap tires, as well as shredded tires and tire chips, to GTR, which provides machinery such as tire tippers and conveyor belts to facilitate the unloading process. The finished product is shipped to customers in 25-ton trucks, 2,100-pound super sacks, 50-pound bags or in containers with labels provided by the customer. GTR, which is located in Florida, supplies its product to nearly all asphalt blending companies in Florida. The Florida Department of Transportation requires that rubberized asphalt be used for state highway projects.
Phoenix Recycling Technologies
Phoenix Recycling in Las Vegas recycles scrap tires from Nevada, California, Utah and Arizona to produce crumb rubber. The recycling facility is capable of processing 2 million tires per year and pays 70 cents per passenger car tire, with a slightly higher amount for larger tires.
Tires are shredding into three-inch pieces. Any metal or fiber is removed and then the rubber is ground into smaller pieces before being packed into 1-ton bags. Phoenix Recycling produces 140 tons of crumb rubber per day and 28 percent of its product is used in asphalt.
References
Resources
Writer Bio
Amy Lively began writing professionally in 2010. She brings expertise in sustainability, careers, nonprofit organizations, photography and American history. Lively holds a Bachelor of Arts in behavioral science from Midland College and a Master of Arts in American history from American Public University in West Virginia.